Kenneth McCoy
Professor of Theatre Arts
Dr. McCoy has been teaching at Stetson for more than 27 years. He teaches all aspects of theatre including voice, acting and directing.
PhD, theatre, Bowling Green State University
MFA, theatre, Southern Illinois University
BA, theatre, University of Alabama at Birmingham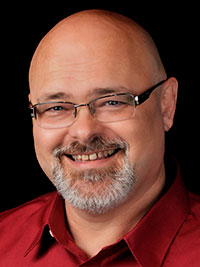 Biography
Ken McCoy joined the theatre arts faculty at Stetson University in 1994. Besides teaching, he has directed more than 50 productions for the stage and acted in nearly as many roles for stage, film and television. McCoy has appeared as an actor in several films, including EyeonU Films' award-winning short "Persistence" and AndYou Films' "Flashback." He occasionally writes and records incidental music for theatre productions, speaks Spanish and is an enrolled citizen of the Cherokee Nation.
More About Kenneth McCoy
Areas of Expertise
Acting for theatre and film
Directing for the theatre
Photography for the theatre
Course Sampling
Principles of Acting
Voice and Diction
Principles of Directing
Acting for the Camera
Acting Comedy
Mask and Movement
Advanced Directing
Native American Performance and Culture
Latin American and Native American theatre
Amateur (ham) radio
Digital and film photography
Acting for theatre and film
Directing for the theatre
Playwriting
Production photos, in: Schmitt, Julia. "Tenth Century Drama in the Twenty-first Century: Staging Hrotsvit of Gandersheim at Stetson University (2005)." Quidditas: On-Line Journal of the Rocky Mountain Medieval and Renaissance Association.(http://humanities.byu.edu/rmmra/)
"A Week at the Races: ATV Serves the Public Interest at Daytona." QST: devoted entirely to Amateur Radio. November 2005.
Encyclopedia Entry: "Lend Me A Tenor." MasterPlots II: Drama. Salem Press, 2003.
Contributed 20 encyclopedia biographies representing Puerto Rico in "Who's Who in the Contemporary World Theatre". Ed. Daniel Meyer-Dinkgräfe, Univ. of Wales, Aberystwyth, Routledge Publ., 2000.
"Liberating the Latin American Audience: The Conscientização of Enrique Buenaventura and Augusto Boal." Theatre InSight 6.2 (Summer 1995).