Kathy Thomas
Adjunct Professor of Music, Horn
Since moving to Florida in 1993, Mrs. Thomas has worked for the Walt Disney World company, Brevard Symphony Orchestra, Bach Festival Orchestra, West Coast Symphony, The Florida Orchestra and The Villages Orchestra.
BM, University of Illinois Champaign/Urbana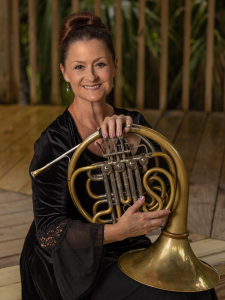 Biography
Kathy Thomas has an extensive professional career in central Florida. Originally from Lombard, Illinois, Mrs. Thomas started horn at the age of 9 with Sharon Corbin. While attending the University of Illinois at Champaign/Urbana she studied with Kent Laramee and Kazimierz Machala, and also John Fairfield at Northern Illinois University. Mrs. Thomas enjoyed playing with the Wheaton Summer Symphony, Champaign/Urbana Symphony, Symfonia Da Camera, Danville Symphony and Hinsdale Symphony.
Since moving to Florida in 1993, Mrs. Thomas has worked for the Walt Disney World Company, the Brevard Symphony Orchestra, the Bach Festival Orchestra, the West Coast Symphony and The Florida Orchestra. In 2004 Mrs. Thomas won the third horn position with the Orlando Philharmonic. She is a member of the Sovereign Brass Quintet. In 2012 Kathy was appointed to the position of adjunct professor of French Horn at Stetson University and has had the honor of soloing with both the Bach Festival Orchestra and the Stetson Symphony Orchestra.
Mrs. Thomas manages a private teaching studio and has an extensive recording studio career. Her credits include the albums Movie Songs and "Broadway" under the Warner Brothers label, and featured tracks on albums for Lane Thaw Toyko Belle, Tiffany Coburn's Light of A Million Mornings, Pillars of Salt, and Fernando Varela. Her studio work has been used for numerous companies including ESPN, Disney World and Tokyo Disney. Kathy's free-lance career provides a full schedule of touring acts which have included Luciano Pavarotti, Peter Cetera, Frank Sinatra Jr., Josh Groban, Andrea Bocelli, Evanescense, Il Volo and Il Divo.
You can also see Mrs. Thomas on several broadcasts including Harmonious Live and the 2018 Andre Bocelli Disney World Christmas Holiday Special.
Kathy is married to professional trombonist Jeffrey Thomas. Together they have raised 6 wonderful children and share a passion for butterfly gardening.
More About Kathy Thomas
Areas of Expertise
French Horn Pedagogy
Brass Quintet
Woodwind Quintet
Course Sampling
French Horn Choir
French Horn Lessons Major, Minor, Non-Major
Chamber Ensemble