Joshua Deckman
Asisstant Professor of Spanish and Latinx Studies
Joshua R. Deckman is an Assistant Professor of Spanish and Latinx Studies in the Department of World Languages and Cultures as well as the incoming director of La Casa Cultural Latina at Stetson University.
BA in Spanish and Education, Washington & Jefferson College
MA / PhD in Latin American Literature and Latinx Studies, The Pennsylvania State University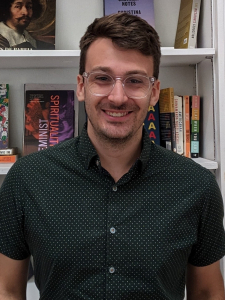 Biography
Deckman's research and teaching center on contemporary Afro-Latinx and Caribbean literature and cultural studies. His work has appeared in Small Axe Salon, Cincinnati Romance Review, Romance Notes, Bulletin of Hispanic Studies, and Dialogos Journal. His book Feminist Spiritualities: Conjuring Resistance in the Afro-Caribbean and Its Diasporas was recently published with SUNY Press. This book considers literary and cultural productions from Puerto Rico, the Dominican Republic, Haiti, Cuba, and their diasporas in the United States, exploring epistemic spaces that have historically been marked as irrational and inconsequential for the production of knowledge including social media posts, song lyrics, public writings, speeches, and personal interviews--to show how various authors develop afro-epistemologies grounded in Caribbean feminist spiritualities and manifest a commitment to finding joy and love in difference.
In addition to this research, Dr. Deckman has created cultural immersion trips for students in Mexico, Nicaragua, and Cuba, and has historically embedded trips to New York City, Boston, and Philadelphia into his classes where his students were able to visit foundational US Latinx cultural sites, such as the Nuyorican Poets Cafe. He was also co-founder of the Truth, Racial Healing, and Transformation Campus Center at his previous institution thanks to a grant through the AACU.
Currently, he is working on his second monograph, centering what he calls "soft politics." In this project, he demonstrates the use of a type of radical vulnerability to mobilize historically colonized communities against the "hard" machine of the US empire. This archive expands his previous research to include diasporic subjects in the US such as Alan Pelaez Lopez and Ariana Brown who engage with Black Caribbean intellectuals in order to ask questions such as: How have certain groups of people confronted the unpredictable aft erlives of colonialism and slavery, nationalism and state formation in ways that perform the material and affective transformations?
More About Joshua Deckman
Areas of Expertise
Black Latinx Literary and Cultural Studies
Contemporary Caribbean Literature and Cultures
US Latinx Studies
Course Sampling
Witches, Goddesses, and Angry Spirits
US Afro-Latinx Studies
Genders and Sexualities in Latin America and the Caribbean
Spanish in the Community
Intermediate Spanish
Affect/Emotion
Queer Studies
Race and Intersectionality
Religious Studies
Africana Spiritual and Cultural Practices
Feminism
Academic Monograph:
Feminist Spiritualities: Conjuring Resistance in the Afro-Caribbean and Its Diasporas (SUNY Press, 2023)
Peer-Reviewed Articles:
Decolonial Swag: Contesting Debt and Sovereignty in Ariadna Godreau-Auberts Las propias: apuntes para una pedagoga de las endeudadas and el Perreo Combativo, CENTRO Journal (Under Review)
An Affective Archipelago of Displacement: Narratives of Migration and Alternative Cartographies of Diaspora, Critical Cultural Studies Journal (Under Review).
Place Memory, Transgression, and Queer Desire in Zo Valds Querido primer novio, Hispanfila 22.1 (2022)
Soft Politics: Latinx Solidarity (Baby) in Maya Chinchillas The Cha Cha Files, AmLit: American Literatures, Special Issue 1.1 (2021)
Killing Joy: The Racial Politics of Happiness and Love in The Farming of Bones, Cincinnati Romance Review 51.1 (2021)
Cuerpos transloca(le)s: Tra zando una geografa loca del Caribe en La importancia de llamarse Daniel Santos, Bulletin of Hispanic Studies 98.1 (2021)
Viviendo happy: Una visin radical de la felicidad en Negra Cubana tena que ser de Sandra AbdAllah-lvarez Ramrez, Voces del Caribe 11.2 (2020)
Interviews
We need new origins: On mestizaje, Ritual, and Finding Blackness in Mexican American Spaces; a conversation with Ariana Brown, Dilogos Journal (2023)
El Nie: Inhabiting Love, Bliss, and Joy; a conversation with Josefina Bez, Small Axe 56.3. (2018)