Joni Hanze
Adjunct Faculty
The world of music is so diverse and has so many different areas to experience and to fully immerse yourself. As a performer, teacher, collaborator, business creator/manager and leader in many organizations, my goal is to always encourage the students to ask questions, get out into the music community to experience all the different performances and opportunities available in this diverse field, reach out and talk to the professionals doing the work out there, and push themselves out of their comfort zone to reach their best potential.
BM in Piano Performance, Drake University
BM in Violin Performance, Drake University
BM in Piano Pedagogy, Drake University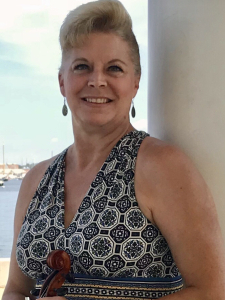 Biography
A native of Iowa, Joni Hanze has been professionally performing, teaching and recording in the music world for over 40 years. Hanze has been associate concertmaster and assistant concertmaster with the Orlando Philharmonic and Brevard Symphony Orchestra and also worked with the Cincinnati Symphony, Southwest Florida Symphony, Lexington Philharmonic, Florida Symphony Orchestra, Annapolis Symphony and Tampa Ballet Orchestra. As one of the concertmasters for Disney World, Joni has done hundreds of performances of the Pixar Show and Candlelight performances, as well as many recordings for Disney Hong Kong, Japan, Florida and Disney Cruise Lines. Ms. Hanze has collaborated and worked with many outstanding artists such as Itzhak Perlman, John Williams, Emanual Ax, Joshua Bell, Yefim Bronfman, Luciano Pavarotti, Bobby McFerrin, Doc Severinsen, Duran Duran, Tony Bennett, Placido Domingo, NSync, Chita Rivera and Natalie Cole, just to name a few. She ha s also performed with several shows of the Orlando Broadway Series.
As a pianist, Ms. Hanze has been a collaborator/soloist at Drake University, University of South Florida, University of Central Florida, Stetson University, Orlando Philharmonic Orchestra, Brevard Symphony Orchestra and on many other stages in Central Florida.
Ms. Hanze is also the creator and manager of Bird on a Wire Entertainment and produces, contracts and performs many different styles of music for many events and venues from solo to full orchestra, as well as produces a concert series.
One of Hanze's many musical passions is being an advocate for women composers/songwriters by educating, programming and performing their music on various stages in Central Florida and having a string quartet composed for her by Gwyneth Walker in 2017.
More About Joni Hanze
Course Sampling
Functional Keyboard
Piano Collaborator