Jesus Alfonzo
Professor of Music, Viola
"The truth is to do good. Educating is the truth."
DMA, Michigan State University, 2001
MM, Michigan State University, 1999
Post-Graduate Diploma, The Juilliard School, 1984
Diploma, The Juilliard School, 1983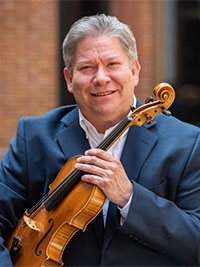 Biography
Jesus Alfonzo serves as professor of music at Stetson University in DeLand, Florida, where he teaches viola, chamber music and music history. He also conducts the Viola Consort and leads the viola clinic. He is a member of the Bach Festival Orchestra in Winter Park, Florida, and has been a member of the Rios Reyna String Quartet since 1987. He received a diploma and post-graduate diploma from the Juilliard School of Music and master of music and doctorate in musical arts degrees from Michigan State University. His viola teachers include Jose' Francisco Del Castillo, Julia Adams, Margaret Pardee, Harry Shub, Robert Dan, Bronislaw Gimpel and Rony Rogoff. He studied chamber music with Joseph Gingold, Felix Galimir, Jascha Brodsky, the Juilliard and the Amadeus string quartets. He has appeared with orchestras in the United States and South America and has performed recitals and chamber music concerts in Europe, South America and the United States.
Born in Caracas, Venezuela, Alfonzo is a founding member of the El Sistema, the Venezuelan National System of Youth Orchestras, an opportunity, which allowed him to develop both his teaching and playing skills. In 1980 and 1981, he served as principal violist of the Jeunesses Musicales World Orchestra. He became principal violist of Simon Bolivar Symphony Orchestra, a position he held for sixteen years. During his career, he has collaborated with distinguished conductors and soloists including Claudio Abbado, Gustavo Dudamel, Leonard Bernstein, Jose Antonio Abreu, Maxim Schostakovich, Kristoff Penderecki, Zubin Mehta, Serge Baudo, Carlos Chavez, Jerzy Semkov, Eduardo Mata, Claudio Arrau, Joseph Silverstein, Mstislav Rostropovich, Pinchas Zukerman, Yo-Yo Ma, Montserrat Caballe, Jean Pierre Rampal, Yehudi Menuhin and Henry Szeryng. In Venezuela, he taught at the Conservatorio de Música Simon Bolivar, the University Institute of Musical Studies (IUDEM), and the Colegio Emil Friedman.
From 1998 until 2014, he presented an annual series of viola and string pedagogy master classes at El Sistema throughout Venezuela. In addition to his teaching duties and performance schedule, Alfonzo maintains a private studio of distinguished students in Florida.
More About Jesus Alfonzo
Areas of Expertise
Viola
Chamber Music
Orchestra Repertoire
Course Sampling
Music History I
Music History II
String Pedagogy
Instrumental Technique
First Year Seminar (FSEM): Salsa: Multicultural Music Non-Majors - Viola
Music Majors - Viola
Music Majors/Sec. - Viola Chamber Ensembles
String Orch Excerpts - Violin Junior Recital - Viola
Senior Recital - Viola
Viola pedagogy
Viola performance practice
El Sistema
Soggetto Cavato II: Mis Relatos en la Historia de El Sistema
Viola Music by Latin American Composer: Catalog of Works
Soggetto Cavato I: La Historia y mis Relatos de los Primeros Cinco Años de El Sistema
Pipocas, CD -Rios Reyna String Quartet
The Johannes Brahms Viola Sonatas, CD (1988)