Jeremy Posadas
Hal S. Marchman Chair of Civic and Social Responsibility; Associate Professor of Religious Studies and Gender Studies
In my courses, I try to draw every student into good discussion about things that really matter to them and the kind of world they want to create. My scholarship focuses on critique of inequalities driven by capitalism.
PhD, religion, Emory University
MDiv, Union Theological Seminary NYC
AB with Honors, The University of Chicago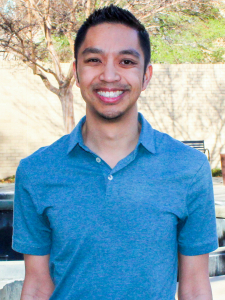 Biography
Jeremy Posadas holds Stetson University's Hal S. Marchman Chair of Civic and Social Responsibility along with a joint appointment as associate professor of religious studies and gender studies. He joined Stetson after 11 years teaching in rural North Texas. As a professor, his chief goal is to foster learning experiences for diverse students to build an equitable and caring community as they co-create new understandings that are useful for disrupting and dismantling systemic injustice.
As a social ethicist, he critiques unjust aspects of society and proposes alternatives to promote social justice, on the basis of inter-sectionally feminist, queer, anti-racist, anti-capitalist and eco-centric moral principles. He majored in the Great Books in college yet later wrote his dissertation shaped by the post-structuralist thought of Michel Foucault. His recently published essays have addressed topics including reproductive justice; feminist anti-work theory; pedagogies to dismantle rape culture and its root cause, toxic masculinity; and solidarity with the working class. At his previous institution, he led the effort that secured a $1.3 million grant from the Mellon Foundation for social justice curriculum development. In addition, Posadas has held faculty fellowships at Vanderbilt University Divinity School, Auburn Seminary (in NYC) and the Wabash Center for Teaching and Learning in Theology and Religion. He serves on the elected committee that oversees the world's largest gathering of religion scholars and also co-chairs its unit on the study of class and labor.
In 2018, Posadas created the United Regions of America map, clustering all 3,142 counties (and equivalents) into 14 regions that calibrate local perceptions with major landforms and industries. This map offers a more useful alternative to the cultural stereotypes and colonialist assumptions projected in Colin Woodard's map of eleven American nations.
Before becoming a professor, Posadas worked as an organizer in the labor and LGBTQ movements; a ministry leader in a multi-racial urban congregation; social work assistant in a pediatric hospital; and an award-winning fast food order-taker/cashier. His hobbies include ice and inline skating, listening to Beethoven, watching sci-fi and rom-coms/-dramas (bonus if they're gay!) and delving into Census data and regional geography.
More About Jeremy Posadas
Areas of Expertise
Social justice
Feminist and LGBTQ issues
Class, work and anti-capitalism
Critical analysis of Christianity
Course Sampling
First-Year Seminar: Self and World
Is That a Religion?
Sex, Self, and Society
Critiques of and alternatives to capitalism
Reproductive justice
Pedagogies for dismantling rape culture
Anti-work theory
Feminist and queer theory
Working class studies
Jeremy Posadas, "Students' Emotional Labor in Religious Studies Courses: Towards Greater Instructor Intentionality," in Teaching Critical Religious Studies, edited by Jenna Gray-Hildenbrand, Beverly McGuire, and Hussein Rashid (Bloomsbury, 2022).
Jeremy Posadas, "From Sympathy to Detoxification: Pedagogical Approaches for Dismantling Rape Culture," in #MeToo and Literary Studies: Reading, Teaching, and Writing about Sexual Violence and Rape Culture, edited by Mary Holland and Heather Hewett (Bloomsbury, 2022).
Merinda Simmons and Jeremy Posadas, "From Essence to Queery: Puzzling Over the Persistence of Identity," Bulletin for the Study of Religion 50.1 (March 2021): 16-23.
Jeremy Posadas, "Reproductive Justice Re-Constructs Christian Ethics of Work," Journal of the Society of Christian Ethics 40.1 (Spring/Summer 2020): 109-126.
Jeremy Posadas, "To Confess the Fundamental Marian Dogma: Postulating the Doctrine of Mary's Reproductive Justice," in Rape Culture and Religious Studies, edited by Rhiannon Graybill, Beatrice Lawrence, and Meredith Minister, Feminist Studies and Sacred Texts (Lexington, 2019).
Jeremy Posadas, "The Refusal of Work in Christian Ethics and Theology: Interpreting Work from an Anti-Work Perspective," The Journal of Religious Ethics 45.2 (June 2017): 330-361.
Jeremy Posadas, "A Mission of Biopower: The United States Colonizes the Philippines," in Critical Theology against U.S. Militarism in Asia: Decolonization and Deimperialization, edited by Anne Joh and Nami Kim (Palgrave, 2016).
Jeremy Posadas, "Theological Complicity in the Disappearing of the Working Class," Dialog: A Journal of Theology 55.1 (March 2016): 70-78.