Jennifer Corbin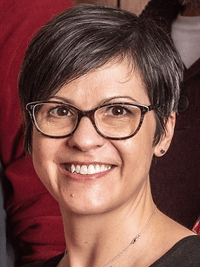 Director of Public Services, Assistant Professor
Jennifer Corbin directs student-centered library services for the Stetson Community.
M.L.S., Indiana University, Bloomington, IN
BA, Indiana University - Purdue University, Fort Wayne, IN
Course Sampling
Research and Information Literacy Skills
Areas of Expertise
Information Literacy Instruction
Reference Services
Biography
Jennifer Corbin is the Director of Public Services at the duPont-Ball Library. She has worked in public, special, and academic libraries and has as strong background in administering and providing reference services and information literacy instruction. At Stetson, she is responsible for leading the library's public-facing services, including information literacy instruction, reference services, circulation, course reserves, interlibrary loan, and stacks management. She contributes to the library website and manages the library's Research Guides. She also teaches information literacy and library instruction workshops for students in all disciplines and class levels. She works closely with the library's dean and associate dean on administrative issues and planning. Corbin has been involved in the following professional organizations:

Association of Colleges and Research Libraries (ACRL), Immersion Program Committee, Chair, 2018-2019
ACRL, Immersion Program Committee, Vice-Chair, 2017-2018
ACRL, Immersion Program Committee, Member, 2015-2017

American Library Association (ALA), Library Instruction Round Table (LIRT), President, 2014-2015
ALA, LIRT, Organization & Planning Committee, Member, 2016-2021
ALA, Round Table Coordinating Assembly, Member, 2013-2016

NOLA Information Literacy Collective, Executive Board, Chair, 2016
NOLA Information Literacy Collective, Executive Board, Member, 2012-2015
Research
Library administration
Reference services as information literacy instruction
Publications
Corbin, J. (2017, Sep.) "From Teaching to Leading: A Learning-centered Management Bootcamp." Library Instruction Round Table News.
Oakleaf, M., Hoover, S., Woodard, B., Corbin, J., Hensley, R., Wakimoto, D., Hollister, C. V., Gilchrist, D., Millet, M., & Iannuzzi, P. (2012) "Notes from the Field: 10 Short Lessons on One-Shot Instruction." Communications in Information Literacy. 6(1).
Corbin, J. L. (2008). Resumption and Expansion of Outreach Activities at Tulane University. Louisiana Libraries, 71(4), 59-61.