Jean Smith
Assistant Professor of Biology
Jean Smith, PhD, is a molecular biologist whose research focuses on the genetics and cell biology of fungal cell-cell fusion. Originally a Florida native, she received her BS in Molecular and Cellular Biology from Johns Hopkins University, her PhD in Molecular Biology from Princeton University, and most recently completed a postdoctoral fellowship at the University of North Carolina at Chapel Hill. Smith is excited to engage Stetson undergraduates in the wonders of biology through learning in the classroom and her research laboratory.
Postdoctoral research fellow, The University of North Carolina at Chapel Hill
PhD, Molecular Biology, Princeton University
BS, Molecular and Cellular Biology, The Johns Hopkins University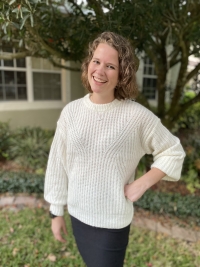 Biography
After growing up in Gainesville, FL, Jean Smith moved north to attend The Johns Hopkins University in Baltimore, MD. As an undergraduate, she fell in love with molecular biology during an introductory course her freshman year and went on to begin her research career studying yeast calcium signaling pathways in the laboratory of Dr. Kyle Cunningham. She also discovered her passion for teaching while serving as a Teaching Assistant for the Introductory Chemistry labs. In 2011, she graduated with a BS in Molecular and Cellular Biology and went on to pursue her PhD in Molecular Biology at Princeton University. There she continued working on yeast cell biology in the laboratory of Dr. Mark Rose, ultimately uncovering novel mechanisms for yeast cell fusion. As a graduate student she was also an assistant instructor for multiple courses, for one of which she earned a teaching award. She was also very involved with Princeton's McGraw Center for Teaching and Learning, being selected to complete a year-long pedagogy seminar and later hired as a Graduate Teaching Fellow to help train other teachers. After receiving her doctorate, Smith became a postdoctoral fellow at the University of North Carolina at Chapel Hill working in the laboratory of Dr. Amy Gladfelter. At UNC she built upon her graduate research experiences by studying the cellular organization of multinucleated cells, including filamentous fungi and mammalian muscle. She also taught an upper-level honors seminar for students completing independent research, teaching them to write scientifically and present their research professionally.
More About Jean Smith
Areas of Expertise
Molecular Biology
Cell Biology
Genetics
Fungal Biology
Course Sampling
Introductory Biology
Microbiology
Genetics
Molecular Biology
Fungal cell biology and genetics
Cell-cell fusion in budding yeast and filamentous fungi
Functional diversity of different filamentous fungi isolates
Smith, J. A.,* Curry, E. G.,* Blue, E. R.,* Dundon, S. E. R., Rodgriguez-Vargas, A., Jordan, D. C., Chen, X., Lyons, S.M., Crutchley, J., Anderson, P., Horb, M. E., Gladfelter, A. S., & Guidice, J. FXR1 splicing is important for muscle development and biomolecular condensates in muscle cells. The Journal of Cell Biology. 2020 2019(4): e201911129
Langdon, E. M., Qiu, Y., Ghanbari Niaki, A., McLaughlin, G. A., Weidmann, C., Gerbich, T. M., Smith, J. A., Crutchley, J. M., Termini, C. M., Weeks, K. M., Myong, S., & Gladfelter, A. S. mRNA structure determines specificity of poly Q-driven phase separation. Science. 2018 doi: 10.1126/science.aar7432
Smith, J. A.,* Hall, A. E.,* & Rose, M.D. Membrane curvature directs the localization of Cdc42p to novel foci required for cell-cell fusion. The Journal of Cell Biology. 2017 216(12):3971-3980
Smith, J. A. & Gladfelter, A. S. Lessons from Yeast on How to Avoid Stress Eating. Developmental Cell. 2017 43(1):3-5
Smith, J. A. & Rose, M. D. Kel1p Mediates Yeast Cell Fusion through a Fus2p and Cdc42p-Dependent Mechanism. Genetics. 2016 202(4):1421-35
Stein, R.,* Smith, J. A.,* & Rose, M. D. An Amphiphysin-Like Domain in Fus2p Is Required for Rvs161p Interaction and Cortical Localization. G3: Genes|Genomes|Genetics. 2015 6(2): 337-49
*These authors contributed equally to this work.