Hannah Sun
Adjunct Professor of Music, Collaborative Pianist
Australian-American pianist Hannah Sun is a soloist, chamber musician, and teacher, connecting with diverse audiences around the world. She is currently Adjunct Professor of Music at Stetson University teaching Functional Keyboard and Applied Piano. She also serves as Collaborative Pianist, rehearsing and performing extensively with the university's Concert Choir, Choral Union, individual students and faculty.
MM, Piano Performance, The Juilliard School
BM, Piano Performance, The Juilliard School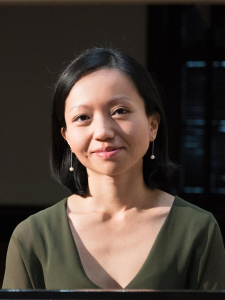 Biography
Concert Pianist Hannah Sun is a performer, teacher, and composer with a mission to connect with diverse audiences around the world. She serves as Adjunct Professor at Stetson University where she teaches Applied Piano and performs with faculty. From 2017-2021 she taught Functional Keyboard, collaborated with the university's Concert Choir, collaborated with students and faculty, and taught in the Community School. She is also Visiting Assistant Professor of Piano at the University of Central Florida, where she is educating the next generation of pianists and collaborating with the School of Performing Arts faculty.
In pushing the boundaries of conventional performance, Sun uses thematic programming and interdisciplinary perspectives to initiate social conversations with her audience. Her most recent project, Breath Underwater, features her original composition, Plastisphere, commissioned by SEAS (Sustainable Environment through the Arts and Sciences). Plastisphere musically reflects on the devastating effects of plastic pollution on sea life, using sound as a means to raise ecological awareness and bring musical imagination into civic actions.
Sun has concertized throughout Australia, Asia, Europe, and across the United States, performing as soloist with the Manhattan Chamber Players, Orchestra of Southern Utah, and Corda Spirita Chamber Orchestra of Queensland, Australia. She has earned top prizes from Stecher and Horowitz Foundation's New York Piano Competition, Long Island Conservatory's International Music Competition, National YoungArts Foundation, and Kosciuszko Foundation's Chopin Piano Competition.
A chamber musician at heart, Sun has spent summers at the American Conservatory at Fontainebleau, France, where she was awarded the Prix Nadia Boulanger, the International Academy of Music in St. Petersburg, Russia, and Kneisel Hall Chamber Music Festival in Maine. Sun has often engaged the community with interactive performances in New York City through the Gluck Community Service Fellowship, and conducted interactive workshops on improvisation, songwriting, and ensemble playing at the Kneisel Hall-Blue Hill: Together in Music outreach program and at the Li Song Piano School in Dongguan, China. She has also performed, lead workshops, and organized fundraisers with Shining Light Ministries, a Gospel and Performing Arts initiative that seeks to expand perspectives and impact incarcerated lives.
Sun began music lessons with her mother, concert pianist Melody Qi He. Immigrating to Australia from China, she continued lessons with Stephen McIntyre, Nehama Patkin, and Geoffrey Tozer, and in New York City with Phillip Kawin, Constance Keene, and Miyoko Lotto at the Manhattan School of Music. She received her Bachelor and Master of Music degrees at The Juilliard School working with Jerome Lowenthal and Seymour Lipkin.
More About Hannah Sun
Areas of Expertise
Piano Performance
Collaborative Piano
Course Sampling
Piano Performance
Functional Keyboard