Elizabeth Skomp
Provost and Vice President of Academic Affairs and Professor of Russian
Provost Skomp is a leading expert in Russian languages and literature. In addition to her background in Slavic, East European and Eurasian Studies, Skomp has extensive experience in faculty development, curriculum management, inclusion and diversity, grants, research and faculty-led study abroad. At The University of the South (Sewanee), she helped develop eight successive years of Fulbright recipients through active advising.
PhD, Russian, University College London, United Kingdom
BA, slavic languages and literatures, Indiana University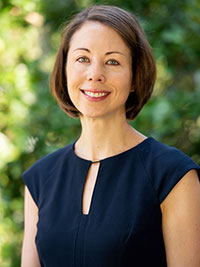 Biography
Elizabeth A. Skomp is an enthusiastic leader who shares a strong commitment in liberal arts education with demonstrated value for inclusion and equity. Skomp believes in Stetson's teacher-scholar model, focus on student success and interest in continuing to build a diverse, inclusive, and equitable institutional environment exemplifies what she most values in higher education.
Skomp is the current president of the Southern Conference on Slavic Studies. Her 2015 book, "Ludmila Ulitskaya and the Art of Tolerance," stands out among numerous research grants, published articles and reviews, and conference presentations.
As the associate dean for Faculty Development and Inclusion, and professor of Russian at The University of the South (Sewanee), where she taught starting in 2005, her focus was on faculty development and grant seeking, curricular reform, integrated advising, dialogue across differences, study abroad, and numerous diversity and inclusion initiatives.
In her previous position, Skomp oversaw Sewanee's Center for Teaching, Office of Advising, Office of Undergraduate Research, Writing Across the Curriculum and the University Art Gallery. Skomp previously served at Sewanee as chair of the Russian Department, director of the Sewanee Summer in Russia Program, and director of Sewanee's interdisciplinary Humanities Program, and has taught in the Sewanee School of Letters.
Skomp has taught at Williams College, DePauw University and the University of St. Andrews in Scotland. She holds a BA from Indiana University and a PhD from University College London, which she attended as a British Marshall Scholar.
More About Elizabeth Skomp
Areas of Expertise
Slavic, East European and Eurasian Studies
Slavic and East European Languages and Literature
Women in Slavic Studies
Course Sampling
Beginning, Intermediate and Advanced Russian
Contemporary Russian in Cultural Context
Environmentalism and Ecocide in Russian Literature and Culture
Manifestos, Movements, and Terrorism
The Modern World
Nabokov
Nineteenth-Century Russian Literature in Translation
Putin's Russia and Protest Culture
Real Men, Real Women? Gender in 20th- and 21st-Century Russian Literature and Culture
Russian Composition and Conversation
Russian and Soviet Film
Tolstoy
Twentieth-Century Russian Literature in Translation
Women in Slavic Studies
Contemporary Russian Literature and Society
Books
Ludmila Ulitskaya and the Art of Tolerance (with Benjamin M. Sutcliffe). University of Wisconsin Press, 2015.
Articles
"The Marian Ideal in the Works of Tat'iana Goricheva and the Mariia Journals," in Framing Mary: The Mother of God in Modern, Revolutionary, and Post-Soviet Russian Culture, ed. Amy Adams and Vera Shevzov, Northern Illinois University Press, 2018, pp. 227-45.
"Byt Literature and the Popular Representation of Motherhood under Brezhnev," in Everyday Life in Russia Past and Present, ed. David Ransel, Mollie Cavender, Karen Petrone, and Choi Chatterjee, Indiana University Press, 2015, pp. 118-39.
"The Function of Games in Pelevin's Mittel′shpil'" / "Uloga igara u Pelevinovoj pripovijetci Mittelspiel" (in Croatian translation), Knjizevna smotra, 41 (no. 153), 2009, pp. 101-104.
"Violence, Madness, and the Female Grotesque in Nina Sadur's The South and Svetlana Vasilenko's Little Fool," in Times of Trouble: Violence in Russian Culture and Literature, ed. Marcus Levitt and Tatyana Novikov, University of Wisconsin Press, 2007, pp. 287-95
"Russian Women's Publishing in the Early 1990s: The Case of the New Amazons," The Soviet and Post-Soviet Review, 33 (no. 1), 2006, pp. 85-98.
"Misogyny, the Male Gaze and Fantasies of Female Death in Eto ia, Edichka and Russkaia krasavitsa," New Zealand Slavonic Journal, 37, 2003, pp. 137-42.
"The Brutality of Byt: Women and Violence in the Prose of Liudmila Petrushevskaia," Slovo, 12, 2000, London, pp. 155-69.
Review Articles (selected)
Russian Literature since 1991, in Slavonic and East European Review, Vol. 96, 3, 2018, pp. 553-55.
Exotic Moscow Under Western Eyes, in SEER, Vol. 91, 2, 2013, pp. 325-27.
Overkill: Sex and Violence in Contemporary Russian Popular Culture, in SEER, Vol. 89, 2011, 1, pp. 128-30.
Iramifications, in Slavic and East European Journal, Vol. 53, 2009, 2, pp. 310-11.
Gender and National Identity in Twentieth-Century Russian Culture, in SEER, Vol. 86, 2008, 4, pp. 723-25.
Pure, Strong and Sexless: The Peasant Woman's Body and Gleb Uspensky, in SEER, Vol. 86, 2008, 3, pp. 523-24.
Reading for Entertainment in Contemporary Russia: Post-Soviet Popular Literature in Historical Perspective, in SEER, Vol. 85, 2007, 2, pp. 340-42.
"Ee glaza, vospetye ne paz...": Vospominaniia/"Her Eyes Extolled Quite Often...": Memoirs, in SEEJ, Vol. 50, 2006, 2, pp. 337-38.
Russian Literature 1995-2002: On the Threshold of the New Millenium, in SEEJ, Vol. 49, 2005, 3, pp. 506-07.
Edited Volume
Co-editor of volume and author of introduction, Harmony and Discord: Moving towards a New Europe, SSEES Occasional Papers, University College London, 2003.
Translations
Translations of 'My Arctic' and 'To follow a departing pain...,' poems by Iunna Morits, in Beacons, Vol. 6, 2000.
Archival Collection
"Tat'iana Goricheva's Letter of Support for a Fellow Dissident," in Faith among the Faithless: Communism and Religion in the Keston Archive (forthcoming in 2019 from 1845 Books, an imprint of Baylor University Press).
Presentations
"Goricheva, the Mariia Group, and the Keston Archive," Association for Slavic, East European, and Eurasian Studies National Convention, Chicago, IL, November 2011
"The Evolving Feminism of Tat'iana Goricheva," Biennial Conference of the Association for Women in Slavic Studies/Southern Conference on Slavic Studies, Alexandria, VA, April 2017
"Tat'iana Goricheva: the development of a religious dissident," ASEEES National Convention, Washington, DC, November 2016; Southern Conference on Slavic Studies, Tuscaloosa, AL, March 2016
"Women and the Everyday in the Writings of Tat'iana Goricheva," ASEEES National Convention, Philadelphia, PA, November 2015
"'I am the narrator of my time': Liudmila Ulitskaia as Public Intellectual," International Council for Central and East European Studies VIII World Congress 2015, Makuhari, Japan, August 2015
"'I am the narrator of my time': Liudmila Ulitskaia as Personalizing the Past and Engaging the Present," invited talk at Havighurst Center Colloquium, Miami University of Ohio, March 2015
"Faith, Fantasy, and the Feminine: Iuliia Voznesenskaia's Orthodox Turn," ASEEES National Convention, San Antonio, TX, November 2014
"'Did the dissidents make history or did history make them?': Intelligentsia and Cultural (Ex)change in the Novels of Liudmila Ulitskaia," ASEEES National Convention, Boston, MA, November 2013
"Reading, Writing, Reflecting: Liudmila Ulitskaia's Sviashchennyi musor and the (Possible) Conclusion of a Career," Southern Conference on Slavic Studies, Greensboro, NC, March 2013
"Narrating the Intelligentsia: Thaw, Stagnation, and Ulitskaia's Zelenyi shater," Southern Conference on Slavic Studies, Savannah, GA, March 2012
"Elena Chizhova's Vremia zhenshchin and the Maternal Family," ASEEES National Convention, Washington, DC, November 2011
"Motherhood through a Marian Lens: The Mariia Journals," Special workshop on the Mother of God in modern and contemporary Russian culture, College of the Holy Cross and Museum of Russian Icons (Clinton, MA), January 2011
"Byt Literature and the Popular Representation of Motherhood under Brezhnev," invited presentation at conference on everyday life, Indiana University, May 2010
"Russian Religious Feminism and the Representation of Motherhood: Mariia and Beyond," International Council for Central and East European Studies VIII World Congress 2010, Stockholm, Sweden, July 2010; American Association for the Advancement of Slavic Studies Annual Conference, Boston, November 2009
"Liudmila Ulitskaia's Maternal Prototypes," AAASS Annual Conference, Philadelphia, November 2008
"History, Memory, and the (Re)Conception of Family in Liudmila Ulitskaia's Prose," invited lecture at Miami University of Ohio, October 2008
"Unification and Alienation: Maternity and Childbirth in War and Peace,"AAASS Annual Conference, New Orleans, November 2007
"Family Ties Redefined: Maternity, Kinship, and Biology in Liudmila Ulitskaia's Kazus Kukotskogo," invited lecture at Duke University, February 2007