Elisabeth Poeter
Associate Professor of German
As a native from Germany, not only has Dr. Poeter studied all around the country but all around the world. Some of her educational travels include California, Spain and her home country of Germany.
Ph.D, German studies, University of California at Berkeley
MA, comparative literature, German and Spanish, University of California at Berkeley
BA, Spanish language and literature, University of California at Davis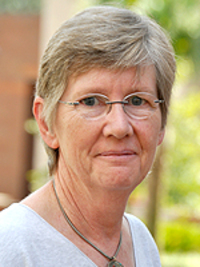 Biography
Elisabeth Poeter, PhD, a native of Germany, came to the U.S. in 1975. She began her second educational career at Sacramento City College where she discovered her interest in foreign language and literature studies.
Poeter spent one year at the University of Barcelona as part of her undergraduate studies in Spanish before completing her final degree in German Studies at the University of California at Berkeley. She taught at U.C. Berkeley, Mills College and Bucknell University before joining the Stetson University faculty in the Department of World Languages and Cultures in 1995. During her tenure at Stetson University, she spent one year at the Pädagogische Hochschule (University of Education) in Freiburg, Germany where she taught courses on German women's literature and literature for children and young adults.
At Stetson University, she serves as director of the Gender Studies Program and as co-director of the university's summer program in Freiburg, Germany. She has been the recipient of the Jane Heman Language Professor Stipend and the William Hugh McEniry Award for Excellence in Teaching.
Areas of Expertise
German literature
Women's education in Germany
Course Sampling
Contemporary German Film
Migrations: The Culture of Border Crossings
Looking On: Exploring European Culture through Film
Voices from East and West: German Women Writers
Issues in German Literature
Children's Literature
Contemporary Short Stories
18th Century German Philosophy
Contemporary German Short Story
Survey of European Culture from the Late Middle Ages to the Enlightenment
Introduction to Gender Studies
Studies in Gender, Race, Class and Sexuality
Capstone in Gender Studies: Crossing Borders
German colonialism and race
Minority film in German speaking countries
Gender and race in German cultural history
Women's literature in 20th century Germany
History of women's education
"Who are the Germans? Teaching Inclusiveness in Modern German Culture." In: Contemporary Approaches to World Languages and Cultures. Boca Raton: Brown Walker Press, 2015.
"Gender, Religion and Medicine in Enlightenment Germany: Dorothea Christiane Leporin's Treatise on the Education of Women." In: National Women's Studies Association Journal 2008.
"Fremdsein und doch dazu gehören. Grenzerfahrungen in autobiographischen Texten ausländischer Jugendlicher in Deutschland." In: Studies in Modern and Classical Languages and Literatures (VI) Rollins College 2004.
"'The World is the Book of Woman': Gender, Knowledge and Education in 18th Century." In: Anthropology and the German Enlightenment. Perspectives on Humanity. Bucknell Review 1995.