Edit Palmer
Adjunct Professor of Music, Collaborative Piano
After earning her undergraduate degree in Hungary, Edit Palmer immigrated to the U.S. to complete her graduate degrees. While in Hungary and America, Palmer won many awards for her performances across the country.
MFA, University of California at Los Angeles
BA, piano performance, California State Polytechnic University at Pomona
Franz Liszt Conservatory of Music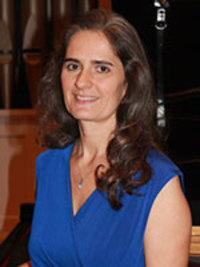 Biography
Edit Palmer is a native of Hungary, where she graduated from the Franz Liszt Conservatory of Music with highest honors. During her early studies, she won numerous piano competitions, including the First Hungarian National Piano Competition in 1980. After immigrating to the United States, she earned her bachelor of arts degree (cum laude) in piano performance at California State Polytechnic University, Pomona. While an undergraduate and a student of Phillip Clarke, PhD, she held numerous solo recitals, played in various ensembles and won many awards culminating in the Tenth Annual Bartok-Kabalevsky International Piano Competition in Redford, Virginia in 1990, which was judged by Gyorgy Sandor, the famous protégé of Bela Bartok.
Palmer continued her studies at the University of California, Los Angeles, studying piano with Antoinette Perry and organ with Thomas Harmon, PhD She received her master of fine arts degree in 1993. At UCLA, she also worked as a teaching assistant, accompanying for Opera Workshop and voice studios, and won many competitions, including the music department's Graduate Scholarship Award for the 1991-92 school year.
After graduation, she became choirmaster/organist/director of music at the First Presbyterian Church of Santa Monica where she directed the Chancel Choir and the Handbell Ensemble, worked with professional soloists and instrumentalists, and performed musical works for choir and orchestra.
From 1996 to 2008, Palmer served as the organist at Markham Woods Presbyterian Church in Lake Mary. In August 1997 she was appointed adjunct professor of music at Stetson University, and in August 2001 she became lecturer of music, teaching aural training and collaborative piano, coordinating the aural training program and accompanying students and faculty. Throughout her career, Palmer has been teaching private students of all ages. She lives with her husband, Scott, and their two children.
More About Edit Palmer
Areas of Expertise
Piano collaboration with choirs