Dione Chandler
Adjunct Faculty, Oboe
Since 2014 Dione Chandler has been an Adjunct Professor of Oboe at Stetson University where she teaches applied oboe lessons, reed making and studio class, coaches chamber music, and is a member of the faculty woodwind quintet, Veritate Winds.
DM, oboe performance, with a certificate in college teaching, Florida State University
MM, oboe performance, University of Southern California
BM, oboe performance, Rice University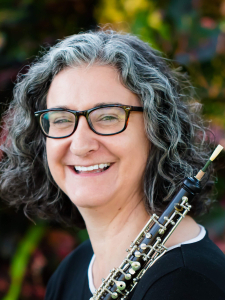 Biography
Chandler is also the Director of the annual Double Reed Workshop, an intensive week-long summer camp for middle and high school students. Previously she has served on the faculties of Texas Tech University and Florida International University. Student successes include undergraduate and graduate school acceptances, such as Manhattan School of Music, Eastman School of Music, Oberlin College, Vanderbilt University, and the University of Missouri Kansas City, as well as careers in their chosen field.
Dr. Chandler has performed numerous solo and chamber music recitals throughout the country and has been involved in several commissioning projects with composers such as Jim Stephenson, Sydney Hodkinson, Dana Wilson, Tom McColley, Joseph Sowa, Joshua Burel, Connor Chee, brin Solomon, Katherine Putkinskis, and Mason Bynes. She has performed world premieres at the International Double Reed Conference and the International ClarinetFest. Dione is the principal oboist of the Southwest Florida Symphony Orchestra and regularly plays with The Florida Orchestra, Naples Philharmonic, Jacksonville Symphony, Sarasota Orchestra, and Orlando Philharmonic. In 2023, she taught and performed chamber music at the International Association of Music Education in Prague, Czech Republic. She has attended the Banff Center for the Arts, the Aspen Music Festival, and the American Institute of Music (AIMS) in Graz, Austria.

Dione holds degrees from Florida State University, the University of Southern California, and Rice University. Her principal teachers are Eric Ohlsson, Allan Vogel, Robert Atherholt, and Sandra Gerster Lisicky.

Since 2013, she has spent numerous hours volunteering as a court-appointed Guardian ad Litem in the Tampa Bay area where she advocates for children.
More About Dione Chandler
Course Topics
Applied oboe lessons
Oboe studio and reed-making class
Coaching chamber music
The Concert Experience for non-music majors and minors
Cornelia Anderson Biggers, The Score Vol. 30 No. 3, American Federation of Musicians, Florida Gulf Coast Local 427-721, 2020
Double Reed News of Interest, The Double Reed Vol. 39 No. 3, 2016
Pelican Brief, Official newsletter of the Southwest Florida Symphony Musicians Association, 2014-15
An Overview of the Works of Simon A. Sargon, Florida State University ProQuest/UMI, 2012