David Johnson
Brown Visiting Teacher-Scholar in Developmental Writing and Writing Center Studies
David Johnson, PhD, joined the Writing Program and English Department at Stetson in 2020 after earning his PhD in English rhetoric and composition from Ohio University.
PhD, English rhetoric and composition, Ohio University
MA, English, SUNY Stony Brook
BA English, SUNY Stony Brook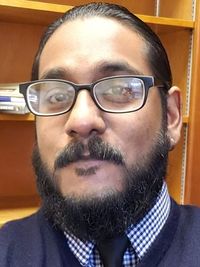 Biography
Johnson's dissertation research explored the application of cultural competencies and other antiracist composition pedagogies in college writing classes, and the data gathered and course designs implemented from this research formed the basis of a major curricular shift toward integrating cultural competencies education in the First-Year Writing Program at OU.
Working in the Writing Program at Stetson, he will help enhance and reconfigure the developmental writing course at Stetson, offer strategies toward incorporating antiracist pedagogies and assessment practices among Stetson faculty, support the university Writing Center as the Assistant Director, and teach classes in developmental writing, his specialization on racial discourse, and other topics in Writing Studies. He is also the content creator and host of Stetson's own "Tipping Our Hats" podcast exploring identity in the academy.

His co-authored work has appeared in journals like Composition Studies, and he has a forthcoming coauthored manuscript under conditional acceptance and revision for the Journal of Teaching Writing.
More About David Johnson
Areas of Expertise
Rhetorics of Race
Antiracist Composition Pedagogies
Qualitative Composition Research
Graduate Writing
Writing Center Studies
Course Sampling
College Writing
Writing about Race
Exploring Writing Studies
Holt, Mara., David T. Johnson, E. Vivian Leigh, and Garrett Cummins. (Conditional Acceptance) "Embodying Anti-Racist Pedagogy: Why is it so Difficult?" Journal of Teaching Writing.
David T. Johnson. (Companion Piece Entry, Title Forthcoming, Spring 2022) in Supporting the Growth of Graduate Writers. Eds. Talinn Phillips & Rachael Ryerson. University of Michigan Press.
Shepherd, Ryan., David T. Johnson, Courtney Mauck, Christopher Barber, and Sue Fletcher. (Course Design, Spring 2020, 48.1) "English 7980: Learning Transfer in Histories and Theories of Composition." Composition Studies.