David DiQuattro
Visiting Assistant Professor of Philosophy
David DiQuattro (PhD, University of Notre Dame) is Visiting Assistant Professor of Philosophy at Stetson University. He specializes in ethics, but enjoys teaching a wide range of philosophy and general education classes.
PhD, University of Notre Dame
MA, University of Notre Dame
BA, Grove City College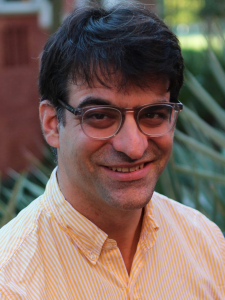 Biography
David DiQuattro earned his Ph.D. in philosophy from the University of Notre Dame in 2010. He began teaching classes at Stetson in 2015, and became Visiting Assistant Professor of Philosophy in 2022. He has also taught at Rollins, Grove City College and St. Vincent College. He was on the faculty of Grove City College from 2008-2015, serving as Philosophy department chair from 2011-2015.
More About David Diquattro
Areas of Expertise
Ethics
Practical Reason
Philosophy of Religion
Course Sampling
Logic
Ethics
Metaphysics
Aesthetics
Existentialism
Introduction to Philosophy
Anscombe, Human Dignity and Physical Handicap, in G.E. M. Anscombe and Human Dignity, ed. John Mizzoni, Neumann University Press, 2016.
Review of Tom Harrison and David Ian Walker, eds., The Theory and Practice of Virtue Education (London: Routledge, 2018) in The Journal of Moral Philosophy. 18 (4): 441- 444.
Review of Scott A. Davison, Petitionary Prayer: A Philosophical Investigation, International Journal for Philosophy of Religion. 83 (3): 315-319.
My research focuses on the relevance of St. Augustine's views to discussions of character, practical reason, the human good and related issues.