Daniel Plante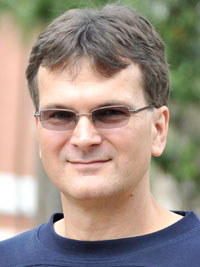 Professor of Mathematics and Computer Science
Dr. Plante believes that approaches to business and economics are computational and should be treated as such. His classes are active and hands-on.
Ph.D., physics, University of Notre Dame, 1995
M.E., computer science, North Carolina State University, 2003
B.S., physics, Marlboro College, 1985
Course Sampling
Introduction to Computer Science I and II
Software Development I and II
Artificial Intelligence
Computer and Network Security
Areas of Expertise
Software Development
Mobile Development
Data Mining
Analytics
Artificial Intelligence
Biography
Daniel Plante has had a formal education in both physics and computer science and enjoys teaching and working with students on research projects that cover the broader areas of web application development, software engineering, mobile application development, artificial intelligence, computational science and security. Plante also enjoys crossing disciplinary boundaries and collaborating with students and faculty in mathematics, business, economics and other fields which require a computational approach.
Plante believes students learn best by actively performing tasks associated with the material covered in class rather than by passively listening during a lecture. His classes tend to require students to directly engage during class by working through problems, designs and development of software.
Research
Software engineering
Data mining
Analytics
Artificial intelligence
Computational economics
Publications
J. Wray and D. R. Plante, "Mobile Advertising Engine for Centralized Mobile Coupon Delivery," International Journal of Management and Marketing Research, 4 (1), 75-85 (2011).
R. L. Thaver, E. M. Ekanayake and D. R. Plante, "The Impact of Economic Liberalization on South Africa's Disaggregated Import Demand Function with Nigeria," Global Conference on Business and Finance Proceedings 6 (2), 382-387 (2011).
E. M. Ekanayake, R. L. Thaver and D. R. Plante, "The Effects of Exchange Rate Volatility on South Africa's Trade with the European Union," Global Conference on Business and Finance Proceedings 6 (2), 620-627 (2011).