Daniel Ferri
Adjunct Faculty, School of Music
Dan enjoys the opportunity to work with students who are passionate about the art of communication through music.
M.M., saxophone performance, Northwestern University, 2004
BM, music education, Stetson University, 2003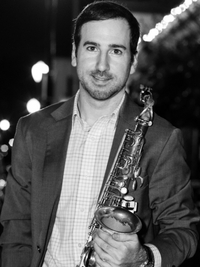 Biography
Dan Ferri has performed throughout the world as a saxophonist with Royal Caribbean Cruises, and in the U.S. with orchestras and regional theaters, including the Naples Philharmonic and Orlando Philharmonic. He has played with Deborah Gibson, Michael Andrew, Tony DeSare, The Platters, The Four Tops and Broadway artists like Ashley Brown and Hugh Panaro. Dan has had the honor of studying with James Bishop, Dr. Jan Berry Baker, Greg Fishman and world-renowned saxophonist Frederick L. Hemke. Dan also owns and operates DRF Music Studios in Maitland, FL, which he founded in 2006. The studio offers private lessons, master classes, workshops, instrument sales and repairs to the central Florida area.
More About Daniel Ferri
Areas of Expertise
Saxophone performance
Classical saxophone
Jazz saxophone
Woodwind repair
Music business and entrepreneurship in the real world
Course Sampling
Applied Saxophone Lessons
Saxophone Studio Class
Saxophone Chamber Ensembles
Jazz Improvisation