D. Elise Gruber
Assistant Professor of Practice of Education
Elise Gruber comes to Stetson following a 35-year career in teaching and administration at the K-12 and university levels.
BA, English Education, University of Central Florida
MA, English Literature, University of Central Florida
MA, "The Word and the Visual Imagination," St Davids College, University of Wales
EdS, Education Leadership, Stetson University
EdD, Education Leadership, University of Florida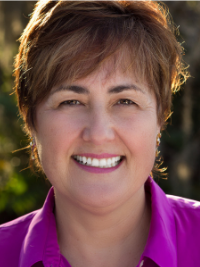 Biography
Dr. D. Elise Gruber is a Visiting Assistant Principal in the Department of Education at Stetson University. Prior to her tenure at Stetson, Dr. Gruber served public K-12 education for 34 years as a gifted and English teacher in Seminole County Public Schools; a middle and high school principal of three separate schools in Seminole County Public Schools and Orange County Public Schools; and an Executive Area Director for Orange County Schools, where she supervised 28 K-12 schools. In addition, she was a coordinator of gifted programs for the Department of Defense Dependents Schools in Germany and has taught education and leadership courses at the university level since 1984. Dr. Gruber's school principal experience includes opening an urban Title 1 high school, and leading secondary schools in increasing Advanced Placement, AVID, fine arts, student leadership and curriculum business partnerships and programs. She was named OCPS's Arts Principal of the Year in 2012 and received Commendations for her work in the Department of Defense Dependents' Schools in 1988, Dr. Gruber presents at the state and national level on issues relating to Advanced Placement, gifted education, education leadership and human resources.
More About D. Elise Gruber
Areas of Expertise
Human Resource Development in K-12 Education
K-12 Curriculum, Instruction and Supervision
Gifted Education
International Education
Restorative Practices Trainer
Course Sampling
Human Resource Development
Instructional Leadership and Supervision
Action Research and Internship
Educational Psychology
Role of the Principal in Human Resources in K-12 Education
K-12 Curriculum, Instruction and Leadership
Leadership in International Education
Currently working on a Saudi Arabian school leadership article
Currently working on the partnership of the K-12 principal and district human resource management article