Craig Uppercue
Adjunct Professor of Music, Elementary Music Education
Craig Uppercue is thrilled to collaborate with the Music Education team at Stetson University in the School of Music. He is an Educator, Percussionist, Conductor and Theatrical Artist who has held numerous positions at the elementary, middle school, high school and university levels teaching Music for the past 17 years.
BME, Music Education, Stetson University
MEd, Educational Leadership, Grand Canyon University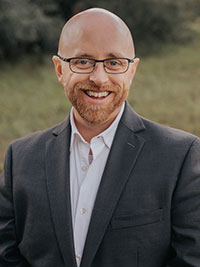 Biography
Craig Uppercue is excited to collaborate with the Music Education team at Stetson University's School of Music. With 20 years of experience as an educator, percussionist, conductor, and theatrical artist, he has enriched musical education at various levels, from elementary to university. Currently serving as the Fine Arts Resource Teacher for Volusia County schools, he supports 275 Performing and Visual Arts Teachers from Kindergarten to 12th grade.
Notably, he recently concluded an 11-year tenure as the Artistic Director for the Historic Athens Theatre in DeLand, FL. His impressive Broadway and Off-Broadway credits include productions like The Lion King, The Rock & The Rabbi, The Witnesses musical, The Apple Tree, and Songs for a New World, among others.
Craig remains actively engaged with esteemed orchestras such as The Jacksonville Symphony Orchestra, The Florida Orchestra, the New World Symphony Orchestra, and The Florida Lakes Symphony Orchestra, among numerous others along the East Coast. Craig and his wife, Amy, reside in Central Florida, cherishing every moment as they watch their daughters grow up.
More About Craig Uppercue
Areas of Expertise
Elementary Music Teaching
Elementary Music Methods
Percussion Performance
Theater Direction and Administration
School Administration
Course Sampling
Elementary Music Teaching Methods
Senior Music Education student teaching internships
Elementary Music Teaching
Elementary Music Methods
Percussion Performance
Theater Direction and Administration