Chesya Burke
Assistant Professor of English
Chesya Burke is an Assistant Professor of English and U.S. Literatures. Having written and published over a hundred fiction pieces and articles within the genres of science fiction, fantasy, comics and horror, her academic research focuses primarily on the intersections of race, gender and genre.
PhD, English Literature, University of Florida
M.A., African American Studies, Georgia State University
B.A., English and Africana Studies, Agnes Scott College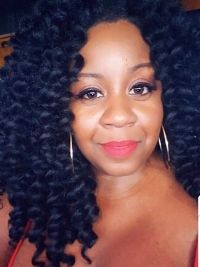 Biography
Chesya Burke is an Afrofuturist. She writes and studies Afrofuturism as a cultural movement that seeks to reclaim black identity through art, literature, and political resistance. Burke is the Co-Chair of Wiscon's Anti-Abuse Team, which is a national science fiction, feminist conference, and her story collection, Let's Play White, is being taught in universities around the world. Poet Nikki Giovanni compared her writing to that of Octavia Butler and Toni Morrison, and Samuel Delany called her "a formidable new master of the macabre." Burke's novel, The Strange Crimes of Little Africa has garnered critical acclaim by writers such as Tananarive Due and Kiese Laymon.
More About Chesya Burke
Areas of Expertise
Black Feminist Theory
Womanism
Afrofuturism
Black Women Writers
Popular Culture
19th-21st Literature
Course Sampling
Red Summer: Literature of Riot and Resistance in the Summer of 1919
Alternative-futures: Octavia Butler through Afrofuturism
The Literature of Resistance: From Nat Turner to Black Panther
#Hashtag Black Girl Magic: The Narrative of Celebration, Community, and Resistance as Empowerment
Black Women Writers
Horror, Science Fiction and Fantasy
Popular Culture
19th-21st c. African American Literature and Culture
Critical Race
Ethnic Studies
Black Speculative Studies
"Hero Me Not: Negro Spiritual Woman and the Constructed Containment of Storm from the X-Men." Rutgers University Press. (expected publication: 2021).

"Black Women and the New Magical Negro." African American Cinema Through Black Lives Consciousness. Reid, Mark. Wayne State Univ Press, 2019. Print.
"Stormy Monday." A Secret Guide to Fighting Elder Gods. Zeolite Publications. (Expected, 2020).
"Peregrination." Chiral Mad 4. Written Backwards, 2018.
"Say, She Toy." Apex Magazine, 9 Feb. 2018, www.apex-magazine.com/say-she-toy/.
"Zero Percent Chance." Fireside Magazine, July 2017, firesidefiction.com/zero-percent-chance.
"Horror Is . . . Not What You Think or Probably Wish It Is." Nightmare Magazine, 28 Sept. 2016, www.nightmare-magazine.com/nonfiction/horror-not-think-probably-wish/.
"The H Word: The H Is for Harassment (a/k/a Horror's Misogyny Problem)." Nightmare Magazine, 30 Sept. 2014, www.nightmare-magazine.com/nonfiction/h-word-h-harassment-aka-horrors-misogyny-problem/.
"Dear White Women: For Whom My Pain Is Invisible." For Harriet | Celebrating the Fullness of Black Womanhood, www.forharriet.com/2013/12/dear-white-women-to-whom-my-pain-is.html?m=1&fbclid=IwAR37F4Ew_PNFGpfGhHqlsKvnagl5nZ6oLqgYacM594SMDsbtosJaNNRyDRs#axzz3o7PFPJUc.