Chaz Underriner
Assistant Professor of Digital Arts
Chaz Underriner (b. 1987 in Texas, USA) is a composer, intermedia artist and performer based in DeLand, Florida. Most of Underriner's work revolves around the notions of landscape and portraiture in the context of experimental music. He has composed works for solo instruments, chamber ensembles, chamber and symphony orchestras, jazz combos, electronics, film, dance and choir.
PhD, music composition with a concentration in intermedia art, University of North Texas, 2016
MFA, music composition, California Institute of the Arts, 2012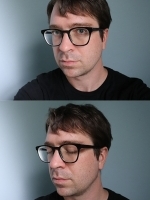 Biography
Chaz Underriner (b. 1987 in Texas, USA) is a composer, intermedia artist and performer based in DeLand, Florida. Chaz's work explores the representation of reality in art, especially landscape, through the juxtaposition of video projections, audio recordings and live performers. His work "enchant[s] the listener so that time loses its function, so that you are completely subordinated to your dreams." (Nieuw Noten 2017)
Chaz's work has been programmed at Gaudeamus Muziekweek (Utrecht, NE), the Los Angeles Philharmonic's National Composer's Intensive, GROUND Solyanka (Moscow, RU), the Proyector International Video Art Festival (Madrid, ESP), the Alchemy Film and Moving Image Festival (Hawick, Scotland), the International Computer Music Conference, the Impuls Festival (Graz, AU), the Morley College Engine Room Sound Art Exhibition (London, UK), the National Building Museum (Washington D.C.), the 2012 Internationale Ferienkurse für Neue Musik, Darmstadt (DE), the Global Composition Conference (DE), Ostrava New Music Days (CZ), the Forfest Festival (CZ), Champ dAction's Laboratorium (Antwerp, BE), the Charlotte New Music Festival (USA), the Louisville New Music Festival (USA), Dogstar Orchestra (Los Angeles), at Edith Cowan University (Perth, AU), the Texas Dance Improvisation Festival (Texas), and the American College Dance Festival Association Regional Conference (Texas).
Chaz has been an artist-in-residence at the Atlantic Center for the Arts and at NYU. Chaz's compositions have been performed by Ensemble Modelo62, Moscow Contemporary Music Ensemble (MCME), Kluster5, Ghost Ensemble, IKTUS Percussion, Ossia New Music Ensemble, Manufaktur für aktuelle Musik, the Krulik Quartet, Austin New Music Co-op, guitarist Nico Couck, the CalArts New Century Players, the UNT Baroque Orchestra, the Lewisville Lake Symphony and the Santa Clarita Master Chorale. In the US, Chaz's works have been presented at the University of North Texas, Texas State University, University of California Los Angeles, the Shepherd School of Music at Rice University, the University of Louisville, the Eastman School of Music, and California Institute of the Arts. Chaz is also the recipient of several awards, including a nomination for the Gaudeamus Prize, the Ossia International Call for Scores competition, 2nd prize in the Frank Robert Abell Young Composers Competition for New Chamber Music for nocturne series: 5, and a commission by the Santa Clarita Master Chorale for their commission competition. As a performer, Chaz plays music written after 1925 on multiple plucked string instruments including electric guitar, classical guitar, lute and theorbo. Chaz has collaborated with composers including Chaya Czernowin, Sofia Gubaidulina, Mark Applebaum, Michael Pisaro, Joseph Klein, Kirsten Broberg, Mike Winter, Mark Menzies, Josh Levine, Anastassis Philippakopoulous, Brent Farris, and Travis Weller, both as a soloist and in an ensemble setting. Chaz has performed at REDCAT in Los Angeles during the Sofia Gubaidulina festival, in a chamber performance the LA Times critic Mark Swed declared "[was played with] focused abandon," in the New Zealand in LA concert series, and as a part of Deep Camp Festival and Ostrava New Music Days festival in Czech Republic. Chaz also performed at the Laboratorium 2011 Festival in Antwerp, Beligum, with Austin New Music Co-op, at the wulf in Los Angeles, at the Dallas Contemporary, with the UNT Baroque Orchestra, NOVA Ensemble and the Keith Karns Big Ban d. As an engineer, composer, and performer, Chaz's work has been released on Edition Wandelweiser Records (EWR 1502), Task Records (Devin Disanto Tracing a Boundary), Slubmusic (Michael Pisaro/Taku Sugimoto D minor / Bb Major), New World Records (Michael Winter, Music for Plucked Strings, forthcoming), Fleur du Son (Triopolis), Delos Records (Sean Kennard), Sedimental Records (Ex Mus Ensemble), and Tonelist Records (Greywing Ensemble). Chaz is an Assistant Professor of Digital Arts at Stetson University. Previously, Chaz was an Adjunct Professor and Audio Engineer at Grayson College, an Adjunct Professor at the Art Institute of Dallas, the Lead Engineer at the UNT College of Music Lab Recording Studio and a founder and curator of the ex mus concert series based at CentralTrak Gallery in Dallas, TX. Chaz earned a Ph.D. in music composition at the University of North Texas where he studied with Joseph Klein, Panayiotis Kokoras, David Stout and Jon Nelson. Chaz earned an M.F.A. in composition at California Institute of the Arts where he studied primarily with Michael Pisaro and Anne LeBaron.
More About Chaz Underriner
Areas of Expertise
Music composition
Multimedia art
Video art
Acoustic ecology
Video game music
Field recording
Composing for media
Music performance
Jazz
Audio recording
Audio production
Audio mixing
Curation
Experimental music
Course Sampling
Digital Audio Fundamentals
Audio Production I
Audio Production II
Scoring for Multimedia
Creativity and Work
2021 Resident artist, Atlantic Center for the Arts
2021 Scholar-in-Residence, New York University, Music technology studios, composer
2019 Finalist, Chamber Music with Electronics workshop, IRCAM
Underriner, Chaz. "Mimesis, Murakami, and Multimedia Art: Parallel Worlds in Performance"
Leonardo Music Journal 29 (MIT Press: December 2019). doi: https://doi.org/10.1162/lmj_a_01059.
2017 Finalist for the Gaudeamus Award