Carolyn Nicholson
Professor of Marketing, Chair of Marketing
Not only is Dr. Nicholson an incredible professor, but she always takes the time to learn about the best ways to teach business students.
PhD, marketing, Virginia Tech, 1993
MA, communication, University of Georgia, 1985
BS, management and communication (dual major), Wingate University, 1984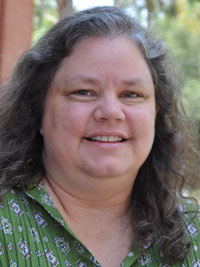 Biography
Carolyn Nicholson, professor and Dennis C. McNamara, Sr. Endowed Chair of Marketing, has been on the faculty at Stetson University since 2000. She has always been interested in both the social science of human interactions and how things and processes work. Invariably curious, she sought an intersection point where her interests would collide and found it in the supply chain and distribution area of marketing. Her research reflects a wide range of interests: communication and liaison roles in inter-firm relationships, social media use in B2B dynamics, sustainability, experiential pedagogies and ethics. She prides herself on her interdisciplinary knowledge and approaches, fully believing that business challenges can best be solved by a variety of perspectives and inputs. She brings this lateral learning perspective into her classes and encourages students to apply knowledge and learning from other fields to problems. In recent years, she has moved into educational assessment and accreditation matters for the university.
More About Carolyn Nicholson
Areas of Expertise
Social media in marketing
Techniques of teaching business students
Course Sampling
Marketing in the Supply Chain
Marketing Decision Making (graduate)
Marketing Research
Marketing Promotions
The role of the Internet and other new media in branding, new product development and B2B processes
Communication and relationship maintenance in distribution channels and sales relationships
Group processes in academic settings
Outcomes assessment processes
Marketers' use of sustainable practices
"Marketer-Generated Content Engagement: A Framework for Exploring its Impact on Brand Trust and Socially-Mediated Communication," Society of Marketing Advances, 2013.
"The Effect of Online Seller Reputation on Consumer Willingness to Pay: An Empirical Study," Journal of the American Academy of Business, 2012.
"Color Saturation: Consumer Judgments of Beverage Attributes Using Only Visual Cues," Academy of Business Research, 2012.
"Comparing Experiential Learning Techniques: The Business Student's Perspective," Society of Business, Industry, and Economics, 2010.
"A Revitalized Academic Minor in Information Systems," Academy of Business Disciplines, 2010.
"St. Johns River Water Management District," case and instructor notes, Journal of Business Cases & Applications, 2009.
"Teaching Ethics and Social Responsibility: An Evaluation of Undergraduate Business Education at the Discipline Level," Journal of Education for Business, 2009.
"Telling Right From Wrong? Ethics and Social Responsibility Education in University Business Curricula," The International Academy of Business and Public Administration Disciplines, 2008.
"The Business Student Satisfaction Inventory (BSSI): Development and Validation of a Global Measure of Student Satisfaction," Association for Business Simulation and Experiential Learning, 2008.
"The Value and Inclusion of E-Business in Business School Curricula: A Cross- Discipline Study." E-Business Review, 2007.
"Do Exchange Hazards Always Foster Relational Governance? An Empirical Test of the Role of Communication." International Journal of Research in Marketing, 2006.