Augustus Scarlato
Assistant Professor of Practice, Computer Science
Augustus (AJ) Scarlato is currently pursuing a Doctorate at the University of South Florida, expected to graduate in 2024. A.J. has taught numerous courses in healthcare information systems and has 20 years of industry experience, serving as Executive Director of Enterprise Imaging Systems for AdventHealth.
MBA, Webster University, 2007
BBA, Computer Information Systems, Stetson University, 2003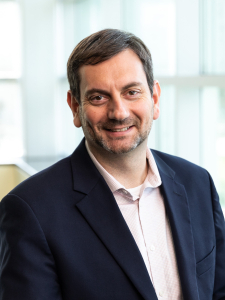 Biography
AJ has extensive experience in database management, software development, and multiple coding languages. His knowledge and skill in leading development teams and training solutions have a direct correlation to the classroom. His insight can help Stetson students bridge the gap between their time at Stetson and success in their future careers. AJ has been employed as an adjunct professor at Stetsons School of Business Administration since Fall 2022 and now occupies the position of Assistant Professor of Practice since Fall 2023.
More About Augustus Scarlato
Areas of Expertise
Computer Information Systems
Computer Science
Software Development
Healthcare Information Technology


Picture Archiving & Communication Systems (PACS)
Radiology Information Systems
Cardiology Information Systems

Management
Finance
Healthcare Enterprise Imaging
Business
Course Topics
Introduction to Computer Science I (CSCI 141)
Software Development II (CSCI 321)
Introduction to Computer Science (CSCI 142)
Senior Research I (CSCI 498
Artificial intelligence Safety
Cybersecurity
Medical Imaging AI
Computer-Aided Diagnosis (CAD)
Healthcare Ransomware Prevention
A. Scarlato. BAMF!: A Transformation to Blackbird Comics & Coffeeshop. Case Studies on Entrepreneurial Ecosystems, Sustainable Business and Stakeholder Dynamics (2022, Bloomsbury Publishing)