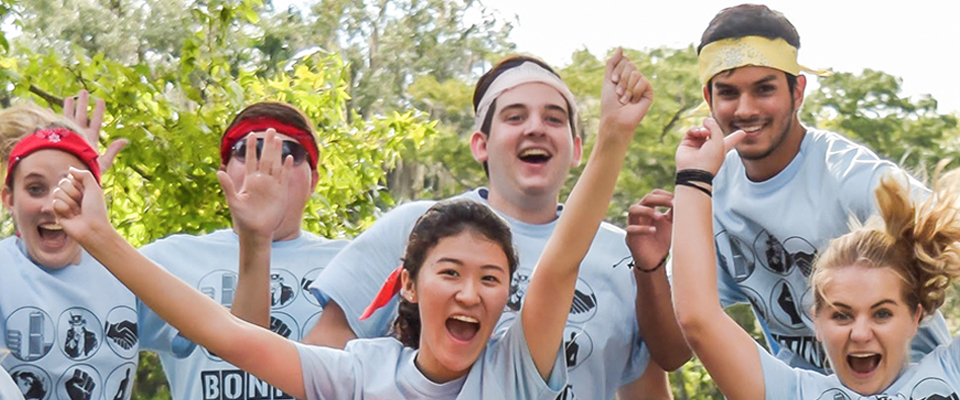 Bonner Program
Since 2005, the Bonner Program has been a catalyst for student-led community transformation and social justice at Stetson University. Bonner students work with non-profit partners, each intent on collectively and collaboratively solving challenges in our local and global community. The Bonner Program is designed to transform not only the students who are directly supported by the program but also the campus and community in which they serve and learn. All Bonner students commit to eight or more hours of community service per week through an internship with a local non-profit community partner and to two hours of personal, professional and/or leadership training per week with other students in the program.
Related programs:
Honors Program Certificate of Community Engagement
Application Timeline
To submit an application, select the "Apply" icon.
To apply for this scholarship, you must first apply to Stetson University via our Early Decision (November 1), Early Action I (November 1) or Early Action II (January 15) decision plan. Once your undergraduate application has been submitted, you will be able to access the Bonner Application through your Hatter Portal.
Applications and supplemental materials are due January 15, at 11:59 p.m. EST.
Financial Scholarship
To help Bonner students complete this work, need-based financial aid packages are available:
Students with high need (e.g., those who have less than a $10,000 expected family contribution (EFC) per the FAFSA or the CSS PROFILE) will have 100 percent of their demonstrated financial need (DFN = cost of attendance minus your EFC) covered through grants, scholarships and/or loans. Applicants seeking this scholarship category MUST have their FAFSA and/or CSS PROFILE completed and sent to Stetson University's Admissions Office by the application deadline.
Students with low need (e.g., those who have $10,000 or more EFC) receive a fixed scholarship of $500 per semester.
Financial aid packages are limited. Students accepted into the Bonner Program before the first year at Stetson are eligible to receive either financial aid package. Students who join Bonner after the first year are eligible only to receive the fixed $500 scholarship per semester.
Program Requirements
Bonner students:
intern with a non-profit community partner for eight to ten hours per week for four years.
align their internship with their academic and career goals so that they graduate with the skills, knowledge and experience needed for graduate school or a career in their area of interest.
maintain at least a 2.5 GPA each semester.
Cornerstone Projects
Each year, Bonner students complete a cornerstone with other members of their class that is tailored to their developmental level. These include
Summer of Service Internships
First Year Trip - a three-day local service project
Sophomore Exchange - a four-day service project carried out with Bonners from other colleges and universities
Junior Capstone - an intensive research or program development project that aligns with students' major and career interests.
Senior Presentation of Learning – an oral reflection presentation on students' career in the program.
Our Community
Students in the Bonner Program receive additional academic advising and one-on-one support from staff in the Center for Community Engagement throughout their academic career.
Amber Finnicum-Simmons '16 '19, Bonner Program Coordinator
Kevin Winchell '07, Associate Director of Community Engagement and Bonner Program Director
Savannah-Jane Griffin '07, Executive Director of Community Engagement and Inclusive Excellence
Taylor Hibel '20, Economic Development Program Coordinator, AmeriCorps VISTA
Markus-Daniel Jones '20, Economic Development Research Coordinator, AmeriCorps VISTA
Ashley Martinez '20, Community Partnerships and Operations Manager, Graduate Assistant
Nonprofit Partners
Approximately 20 nonprofit organizations, public schools, and governmental agencies host Bonner students each year. These dynamic partners serve as co-educators and mentors throughout the length of a student's career in the program. Current partners and projects include
providing social services and supporting case management of low-income families at the Neighborhood Center of West Volusia
tutoring and mentoring youth at the Chisholm Community Center and Spring Hill Boys and Girls Club
clearing walking trails and facilitating educational programs for youth about local habitats at Lyonia Environmental Center
creating financial literacy programs and coordinating the Volunteer Income Tax Assistance program at the United Way of Volusia/Flagler Counties
Success Stories
Gladys Valle '14, MATESL
The Bonner Program provided me with several opportunities to serve my community in a meaningful way. During my first year in Bonner, I was able the launch The Beautiful Movement, a program for teen girls. Not only did this opportunity help others but it made me believe that I could make an impact in the world. Being a Bonner influenced me to live a life of service. Upon graduating from Stetson, I served with City Year Boston which eventually led me to my passion--teaching. The Bonner Program shaped my way of thinking and my life in ways that I could have never imagined. The staff and national Bonner network really encourage you to see the bigger picture--what you can do for yourself and your community. To me, it was the best part of Stetson.
Deryck Greene '14, MPA
The Bonner Program connected the dots between my professional goals, academic interests, and passion for empowering others which ultimately led to where I am today. While leading Kilometer Kids, an after-school youth fitness program, I coordinated a team of volunteers in coaching new sports and emphasizing the importance of a healthy lifestyle to the "K-Kids". Bonner enabled me to serve as a positive role model for the Kilometer Kids in two ways: on the field as their coach and in the classroom as a tutor. As Senior Intern, I innovated new ways to build the program's capacity and supported the development of leaders who were tasked with sustaining and growing the impact of Bonner in the community. In my role with the American Red Cross, I still leverage the skills and experiences that I gained from my time in Bonner.
Request Info
Loading...
Apply