2022-2023 Campus to Career Experience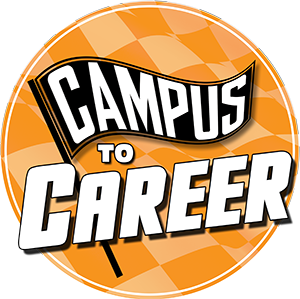 Save The Dates
February 3: Kick-Off
January 16, 2023 - April 14, 2023: Conference Programming
In-person, virtual, and hybrid programs
Click Here to RSVP on Symplicity
2022-2023 Campus to Career Experience
Stetson University College of Law
Gulfport, FL
---
What is the Campus to Career Experience?
Campus to Career 2022-23 is a professional development experience for all students that spans spring semester, with in-person, virtual, and experiential events. Campus to Career Experience segments are designed and developed to 1.) introduce perspectives on a hot topic and provide information about trends that may affect your choices, 2.) introduce you to individuals, associations, firms, and mentors who want to meet you and help you on your law school journey, 3.) help you strengthen or acquire competencies you can use and apply immediately and throughout your career to advance your law school and law career performance, and 4.) help you secure a summer or post-graduation job via connections, information, preparation, and confidence.
Why is the Campus to Career Experience important to me?
Whether you are a 1L, 2L, 3L or 4L, Spring semester begins a transition in your law school journey. You should begin your planning for the next phase of law school (or your transition to your new career), start weighing your options for summer jobs, internships, or educational experiences, and focus on meeting people who can offer you opportunities and introductions to others in your field of interest, or as you explore your interests. All of the sessions and segments are led, attended, or presented by experts, influencers, or leaders in their fields.
When and Where is the Campus to Career Experience?
Events will begin in January after the campus opens and classes begin and continue through April of 2023. Events will be in-person on the Gulfport or Tampa campus, virtual, for convenience, or hybrid, to meet multiple needs and goals. Program schedules, location, food and beverage availability, and presenter blurbs will be published on the Docket, Symplicity, and the Campus to Career website in advance.
---
Sponsors
---
2022-23 Campus to Career Experience Working Program Schedule
January 16, 2023 - 1:00pm to 3:00pm
Dessert
Great Hall
Oral Advocacy: Join the Conversation
If you are taking R&W II in the spring, join Professor Brooke Bowman, R & W Professor and Director, Moot Court Board, to watch a live moot court practice of our Hunton Andrews Kurth National Championship team and learn more about oral argument fundamentals, which will help you about the types of arguments you will present in R&W II.
And because students can feel stressed about presenting oral arguments, desserts ("stressed" spelled backwards) will be served. Consequently, an RSVP is necessary. (And there will be an opportunity to win prizes.)
January 19, 2023 - 12:10pm to 12:55pm
Includes light lunch available at 12 noon
Classroom D
Compassion Fatigue: How to recognize it and protect yourself from others' trauma
Speaker information:
Brenna Galvin is the managing shareholder and elder law attorney at Maser Amundson & Boggio, P.A. Her practice focuses on estate planning, life care planning, asset Protection, Veterans benefits, Medical Assistance, and special needs planning for individuals with disabilities. In 2019, Brenna completed training through the International End of Life Doula Association to become an end-of-life doula. In both of her roles, she stands beside people who are facing traumatic events in their lives, and the work on their behalf can cause burnout and compassion fatigue. Learn how to recognize compassion fatigue, the science behind trauma, and how we can protect ourselves while helping protect others.
January 20, 2023 - 12:10pm to 12:55pm
Includes light lunch available at 12 noon
Classroom D
Nonprofit Organization Leadership: A mission-driven and fulfilling law practice strategy
Speaker Information:
Grace Juneau Whiting, NAELA CEO and lawyer, and Hugh Webster, a nationally recognized lawyer and advisor to nonprofit organizations, associations, and individual executives will discuss the rewards of leadership and advocacy in the non-profit sector. With decades of experience advocating for underserved and disempowered groups through their innovative, inspiring, and effective leadership of organizations and committed people, Grace and Hugh will share the journey from law school to their roles as trailblazers and thought leaders.
January 24, 2023 - 11:55am to 12:55pm
Includes light lunch (if you make a reservation)
SC 201
Judicial Clerkships: How, When, Why
Host: Ryan Hoyle with Kathryn Alkire, Dean Bent, Dean Mullins, Professor Virelli and friends
Cover letters, recommendations, writing samples, interviews! A Judicial Clerkship serves as the capstone experience to your legal education – these opportunities require careful planning and informed decision-making in their pursuit. Join us for an open discussion (bring your questions) on the nuts and bolts of all things Judicial Clerkship application process. Hear professors discuss interview strategies and letters of recommendation. Speak to former clerks and students with clerkships on their success in navigating the process. Learn about the materials review and preparation services available to you. Your time to apply for clerkships is now – let us help you prepare.
January 30 & 31, 2023 - 11:45am to 1:15pm
(Light lunch and snacks)
2nd Floor Student Center Concourse
Get ready to make new connections!
Ambassadors, old friends, and the Career Development crew team up to share tips and tricks for making the most of crowded rooms full of great connections and potential new friends. Professional careers in law and business mean lots of social events, networking opportunities, and sometimes challenging moments. We have experiential and improvisational solutions at hand and hope you will stop by with questions about everything from what to wear, to how to introduce yourself. It's a party before the party.
February 1, 2023 - 4:30pm to 7:00pm
(Refreshments throughout the event)
Great Hall and surroundings
Community Connection Experience
Ambassadors, Student Bar Association, Career and Professional Development
We've invited a lot of friends to welcome you back to campus, and to let you know how much they want to stay in touch. Voluntary Bar Associations are local membership organizations of lawyers and legal professionals; Inns of Court are organizations of judges, lawyers, law professors, and in some cases law students who meet periodically to discuss ethics, skills and matters of professionalism, and professional organizations are interest groups that are bonded by common goals, practice areas, or issues. We've invited some of each along with our Campus to Career sponsors who want to meet you and find out more about your interests and how they can help you on your path. Join us for fun, door prizes, games, and a good time.
February 3, 2023 - 12:00pm to 1:30pm (Lunch Service starts at 11:30)
(Lunch)
Great Hall
Personal Strategic Planning
Lila Jaber, with Professors Adams
Lila Jaber, a well-known, recognized strategist and thought leader and experienced lawyer and a member of Stetson University's Board of Trustees, will be interviewed personal strategy by Professor Kristen Adams. With a nearly 30-year professional background in energy, natural gas, water and telecommunications regulatory policy she is experienced in leadership, management, ethics and governance, as well as regulatory and political consulting, Lila's advisory firm works on a number of business development and leadership initiatives, including the Florida's Women in Energy Leadership Forum, which she launched in 2015. Notably, Lila served two terms as both Commissioner and Chairman of the Florida Public Service Commission, overseeing the state's implementation of economic regulatory policy and procedure for the energy, natural gas, water, and telecommunications industries.
Participants will then work on exercises related to strategic planning and prepare the foundational elements of a plan.
February 8, 2023 - 12:00pm to 1:00pm
(Chik-Fil-A lunch, provided by the Administrative Law Section of the FL Bar)
Sebring Courtroom
Administrative Law Information Session
Judge Gar Chisenhall and invited speakers from the field of practice, TBD
This session will explain the broad and impactful field of administrative law, provide information about the benefits of the practice area as an employment destination for law school graduates, and build awareness of the benefits gained by membership in the Administrative Law Section of the Florida Bar.
February 10, 2023 - 12:00pm to 1:00pm
(Chik-Fil-A lunch)
F/R Courtroom
Gene DeMaio is Executive Vice President in FINRA's Market Regulation Department, with responsibility for managing the Options Regulation and Trading and Financial Compliance Examinations programs.
Prior to joining FINRA, Mr. DeMaio was an Options Market Maker at the American Stock Exchange, and earlier worked as an attorney at the law firm of Kord Lagemann, where he represented complainants in securities arbitration disputes. Mr. DeMaio is a graduate of Fordham Law and earned his LL.M at New York University.
February 17, 2023 - 12:00pm to 1:00pm
(Lunch provided)
Mann Lounge
The Importance of Mentorship for Diverse Law Students
Erica Bartimmo is Senior Vice President and Assistant General Counsel for Citi and an adjunct professor of law at Florida State University. A Magna Cum Laude graduate of the University of Miami School of Law, she serves on the board of directors of the Kozyak Minority Mentoring Foundation and speaks often and passionately about the importance of mentors in the law careers of underrepresented law students and law school graduates. Sponsored by the Diversity Committee of the Student Par Association, Ms. Bartimmo will work with students to arrive at and then answer the most important questions about finding and successfully working with mentors throughout your law career.
Stetson Talks Round 1
Classroom D
12:10pm - 12:45pm (Chik-Fil-A lunch)
February 13, 2023 (RSVP Here)
Cover Letter Don'ts: How to Avoid the Recycle Bin
Professor Brooke Bowman and Assistant Dean Cathy Martin
February 14, 2023 (RSVP Here)
Your Law School Resume: What's the Difference? Learn what hiring professionals are looking for and how to structure your resume to Catch the Eye!
Korey Henson
February 23, 2023 (RSVP Here)
Summer Jobs and Law School: On Campus Recruiting Explained
Assistant Dean Cathy Martin and Lindsey Lamb
February 21, 2023 - 12:00pm to 1:00pm
(Food provided)
F&R Courtroom
Lunch and Learn with the Office of Clinical and Experiential Education
Space for students to ask questions, gain knowledge, and understand how clinics and externships operate.
RSVP Here
See the Office of Clinical and Experiential Education website for this and all clinic/externship events.


February 28, 2023 - 12:00pm to 1:30pm
(Lunch Provided - Spiros)
Classroom F
Legal Careers in the Military
Brigadier General Ronald Sullivan, Chief Judge of the US Army Court of Appeals, will talk about leadership, his own career path, and opportunities available for law school graduates. Don't miss this opportunity to learn more about a legal career in the military.

RSVP Here
March 29, 2023 - 12:00pm to 12:45pm
Snacks, lunch and beverages provided
Florin Roebig Courtroom
Moderated Recruiter Panel and Meet and Greet
A moderated panel of legal recruiters from our Sponsoring Law Firms discuss the on-campus interview experience. Get advice from insiders on what to be prepared for, and how to make an impression in the interview.
To Be Scheduled or Recorded and Dropped by March 30, 2023
Summer Job Challenges: Part-time work, Out of state work, Post Law School options
Legal Research/Writing Refresher and Tips
Legal Technology and Billing Practices you Need to Know
OCI - The student perspective
March 31, 2023 - 9:00am to 3:00pm Virtual
Virtual
Mock Interviews with Law Firm Recruiters
Hone your interview skills to improve your interview performance. Job interviews are important steps to the selection process, and advice from insiders who know the ropes is helpful. Take advantage of our volunteer participants in this event, who will provide feedback, tips and ideas for you to consider.
April 4, 2023 - 11:00am to 2:00pm
Beverages and light snacks will be served
Great Hall & Mann Lounge
Career Fair