About Us
The world is our campus. S.P.R.E.E.S. is vitally relevant: from Berlin to Vladivostok, from the Baltic to the Black Sea, from the Bug to the Amur, from communications to music and art, to history, literature, and politics.
Our distinctive and selective program in Russian, East European and Eurasian Studies (S.P.R.E.E.S.) trains students to analyze and interpret the territory, peoples, history, languages and cultures, and practices of the Eurasian landmass from a multidisciplinary perspective.
S.P.R.E.E.S. furthermore trains students to become proficient in the Russian language through classroom training and our diverse study-abroad opportunities.
The history of the program distinguishes us among small colleges in the United States. Half a century ago - soon after the start of the Cold War and the launching of Sputnik – Stetson University was designated as a center for the study of the Soviet Union and the Eastern Bloc. For 50 years, we have excelled at the study of history, geography, politics, economics, and cultures in the countries that formed the Russian Empire and the Soviet Union.
Join the conversation on our Facebook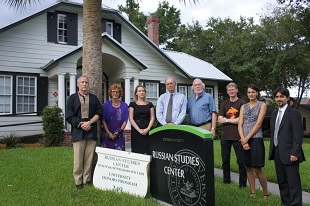 Our students and alumni reflect this engagement. S.P.R.E.E.S. students become proficient in the Russian language (and other related languages) through coursework at Stetson University and by studying abroad in the Russian-speaking world, in places like Russia, Kyrgyzstan, Moldova, Poland, and Ukraine. Many of our students have additionally pursued intensive summer language training courses at places like Indiana University and Middlebury College.
The skills and opportunities acquired through studying the languages, cultures, and social sciences of the region have allowed Stetson University students to enter leading graduate programs, and to find employment immediately after graduation in business, government, and the nonprofit sector in the United States and abroad.