Mission and Staff Directory
Mission
To empower and challenge students and alumni to reach their professional aspirations
Vision
Every student achieves professional success
Connect With Us
Phone: 386-822-7315
Email: [email protected]
Location: Rinker Welcome Center, 2nd Floor
Office Hours: 8:00 a.m.-4:30 p.m., Monday - Friday
Appointments are available on Wednesdays from 4:30-7:00 p.m.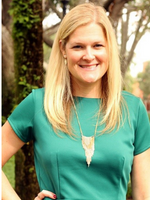 Stacy Collins
Interim Executive Director
Stacy Collins began her journey with Stetson University by attending for both her bachelor's and master of arts degrees. She continues to be a proud Hatter in her position as interim executive director of Career and Academic Success.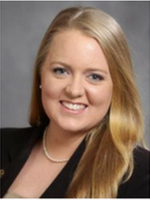 Liz Connor
Associate Director
Students: Provides career and professional development support to students and alumni in the College of Arts and Sciences. Advising students about: resumes and CVs, cover letters, job searching, interviewing, graduate school preparation, personal statements, networking and personal branding.
Faculty: Welcomes collaboration with faculty in the College of Arts and Sciences to coordinate workshops and programs related to career and professional development.
Employers: Provides information and suggestions, on-campus recruiting and branding strategies, and develops ways to feature employers through social media and marketing.
In December of 2021, Liz earned her Master of Business Administration from Stetson University and currently serves as a Board Member and the Director of Communications and Marketing for the Florida Association of Colleges and Employers (FloridaACE). Before joining Stetson, Liz completed her Master of Arts in Educational Leadership and a Bachelor of Science in Business Administration at the University of Central Florida as a transfer student from Valencia College (Go Knights, Charge On!). She enjoys spending time with her family and pets, doing outdoor sports and listening to music.
You can learn more about Liz on LinkedIn or by email.
John Sheehy
Assistant Director
Students: Guides and mentors all School of Business Administration students throughout their four years on campus, as well as post-graduation, within their overall career development process including; professional communications, resume' development, social media, networking, interviewing, career exploration and search, and evaluation of job offers. Additionally, he provides support to our student military veterans and pre-law students.
Faculty: Collaborates with School of Business Administration faculty and provides career resources to assist with assignments both in and outside of the classroom. He provides direct insight into how student course studies and individual work with his office are directly linked to professional career tracks and their overall post-graduation success.
Employers: Proactively bridging the gap between the corporate world and the student body through the building of professional relationships with employer partners, and then connecting them to the School of Business Administration students. Assisting employers in their recruitment of Stetson University's young professionals with the goal of providing skilled, problem solving, and articulate candidates.
John, his wife Amy and their two children (now young adults living away from home) have resided in DeLand, Florida, since 2001. The Sheehy family greatly enjoys the "Florida Lifestyle" including beach days, Walt Disney World and the year-round ability to tour the state on their Goldwing motorcycle.
Carolyn Meeker
Director of Experiential and Career Education
Students: Provides holistic support for students seeking, applying for, and completing internships, project-based learning/micro-internships, and student employment. This includes career coaching related to exploring careers, identifying opportunities, and developing application material.
Faculty: Welcomes collaboration with faculty and staff to integrate career readiness into the curriculum and co-curriculum, strategically focusing on internships, project-based learning/micro-internships, and student employment. This includes presentations, resource sharing, and documenting student engagement.
Employers: Partners with new and existing employers to provide experiential educational opportunities for students. This includes supporting employers in developing high-quality internship/micro-internship programs, visiting internship/project-based learning sites, and helping to promote opportunities across the Stetson Community.
Before joining the Stetson Community, Carolyn served as an assistant director for Career and Talent Development at Florida International University (FIU) in Miami. She has worked in career services for 13 years and in residential life for six years. Carolyn is an educator. At FIU, she taught First-Year Experience (FYE) and graduate internship courses in Adult Education & Human Resource Development (AE/HRD) and Hospitality & Tourism Management. Carolyn is a lifelong learner. She has a doctorate of education in AE/HRD from FIU, a master of education in Counseling in Student Affairs, a bachelor of arts in Spanish from the University of California Los Angeles, and an associate of arts in Humanities from College of the Canyons. She is also certified in CliftonStrengths, the Myers Briggs Type Indicator (MBTI), and the Strong Interest Inventory. Through her academic and professional career, Carolyn developed a passion for service, inclusion, justice, and collaboration.
You can learn more about Carolyn on LinkedIn or by email.
Alexis Newman
Coordinator of Experiential and Career Education
Students: Provides support for students navigating internship, and experiential/project-based learning, working to create equitable access & opportunity for students to explore major/career pathways. This includes the development and implementation of programming to promote student awareness of and engagement in community offerings and opportunities, and providing coaching and advising to students across the DeLand campus' three schools. Also serves as primary contact for the Academic Internship Course Registration process.
Faculty: With the Director, works with faculty to integrate career readiness into the academic curriculum, and keep them informed on best practices in experiential education.
Employers: Supports employers in the development of high-quality internships & micro-internships, coordinating internship site visits, and promoting experiential opportunities across the Stetson community.
Alexis, a Seminole County native, comes to the Stetson community from PSI High, a 9-12 program in Sanford, FL centered around community engagement, problem & project-based learning, and design thinking. She completed a Bachelor of Science in Political Communications, concentrating in Leadership and Social Advocacy, at Emerson College in Boston, MA. Alexis is driven by a commitment to educational equity, advocacy & building accessible scaffolds for young people to find and connect to a purpose in our constantly evolving world.
You can learn more about Alexis on LinkedIn or by email.
Megan Oeste
Senior Office Assistant and CPTA
Megan is a junior student majoring in Business Administration. She is also a CPTA, part of the WELL Team, PACT and OCEAN and always enjoys learning new things. Megan is committed to helping individuals advance their professional and leadership skills. Besides studying and volunteering around campus, Megan enjoys reading, watching movies and spending time with her friends.
Jamie Hardy
Senior Office Assistant and Lead CPTA
Jamie is a senior double majoring in International Business and Marketing, minoring in Professional Sales. She is involved on campus as a member of Green, White and YOU's marketing team is the Vice President of Education on the Honor System Council and is also the Lead Career Peer Teacher's Apprentice (CPTA) in the business school. She is a very passionate individual who loves connecting with others. After graduating from Stetson, she plans to attend graduate school to obtain an MS in Marketing.
Pete
Pawject Manager
Hi everyone! My name is Pete and I work alongside my human as a Senior Office Assistant in the Career and Professional Development Office! Catch me running at Rinker field or studying hard (AKA sleeping) in the LBC. If you see me on campus, I love to be petted - so don't be shy!
Kayla Jones
Career Peer and CPTA
Kayla is a junior majoring in Entrepreneurship. Besides her role as a Career Peer, she is also a part of Green White & You's Senior Initiative team, and she is the president of the Baking Club. When she is not on campus, she enjoys spending time with her family and friends and learning how to bake different desserts.