Staff Directory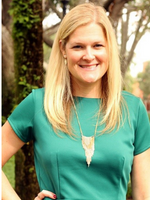 Stacy Collins
Executive Director of Career and Academic Success
Stacy Collins began her journey at Stetson University, receiving her bachelor's and master of arts degrees. She continues to be a proud Hatter in her position as Executive Director of Career and Academic Success.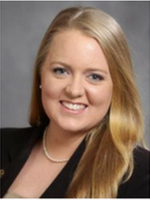 Liz Connor
Director
Students: Provides career and professional development support to students and alumni in the College of Arts and Sciences. Advising students about: resumes and CVs, cover letters, job searching, interviewing, graduate school preparation, personal statements, networking and personal branding.
Faculty: Welcomes collaboration with faculty in the College of Arts and Sciences to coordinate workshops and programs related to career and professional development.
Employers: Provides information and suggestions, on-campus recruiting and branding strategies, and develops ways to feature employers through social media and marketing.
In December of 2021, Liz earned her Master of Business Administration from Stetson University and currently serves as a Board Member and the Director of Communications and Marketing for the Florida Association of Colleges and Employers (FloridaACE). Before joining Stetson, Liz completed her Master of Arts in Educational Leadership and a Bachelor of Science in Business Administration at the University of Central Florida as a transfer student from Valencia College (Go Knights, Charge On!). She enjoys spending time with her family and pets, doing outdoor sports and listening to music.
You can learn more about Liz on LinkedIn or by email.
John Sheehy
Associate Director
Students: Guides and mentors all School of Business Administration students throughout their four years on campus, as well as post-graduation, within their overall career development process including; professional communications, resume' development, social media, networking, interviewing, career exploration and search, and evaluation of job offers. Additionally, he provides support to our student military veterans and pre-law students.
Faculty: Collaborates with School of Business Administration faculty and provides career resources to assist with assignments both in and outside of the classroom. He provides direct insight into how student course studies and individual work with his office are directly linked to professional career tracks and their overall post-graduation success.
Employers: Proactively bridging the gap between the corporate world and the student body through the building of professional relationships with employer partners, and then connecting them to the School of Business Administration students. Assisting employers in their recruitment of Stetson University's young professionals with the goal of providing skilled, problem-solving, and articulate candidates.
John, his wife Amy and their two children (now young adults living away from home) have resided in DeLand, Florida, since 2001. The Sheehy family greatly enjoys the "Florida Lifestyle" including beach days, Walt Disney World and the year-round ability to tour the state on their Goldwing motorcycle.
Anne Eible
Assistant Director
Students

: Provides major, career, and internship advising to students from the College of Arts & Sciences, the School of Business Administration, and the School of Music, as well as alumni. Supports the undergraduate academic internship registration process, Discovery students, and the Career 201 module.

Faculty

: Welcomes collaboration with faculty to coordinate workshops and programs related to career education and internship opportunities.

Employers

: Provides in-depth recommendations based on student analytics to further on-campus recruiting strategies. Actively supports career events such as Career Expos and Employer Takeovers.
As a native Floridian Anne enjoys beach days, kayaking, and playing video games when it gets too hot. Anne received her Bachelor of Arts in Psychology from USF before earning her Master of Arts in Clinical Psychology at UCF. She hopes to become a vital career resource to students and staff alike!
Jana Cotta
Administrative Specialist III
Jana Cotta is the Administrative Specialist for Career and Professional Development. Before working at Stetson, Jana was employed in the Financial Securities and Commercial Real Estate industries. After moving to DeLand in 2021, she decided that she wanted to be involved in a local business, and have a greater impact on the people of her city, so she was hired for the position of Hatter1 Card Office.
Jana is responsible for handling the day-to-day operations of the department, especially the budget and finance areas. In her spare time, she enjoys swimming, biking, and art. An accomplished pianist, Jana has performed for many shows and concerts in the Central Florida area, including the orchestra for Orlando Ballet's "Beauty and the Beast" at the Dr. Phillips Center in Orlando. Jana enjoys spending time with her husband and 3 grown sons.
Caleb Wallace
Graduate Assistant
Caleb graduated from Stetson University, earning his bachelor's degree in Business Administration with a concentration in Accounting. Caleb is pursuing a master's degree in Accounting and hopes to become a CPA. Caleb has been involved in Stetson's community by being a Residential Assistant for the Apartments Area for the past two years, and the treasurer of The Phi Beta Sigma Fraternity Inc. Caleb hopes to continue building alumni and student relationships at Stetson.
Gabriel Laverde
Graduate Assistant
Gabriel graduated from Stetson University, earning his bachelor's degrees in Accounting, and Business Systems and Analytics. Gabriel is finalizing his Master of Business Administration with a concentration in Business Systems and Analytics. Gabriel is a former member of the Men's Rowing Team and is an alumnus of Alpha Kappa Psi Business Fraternity where he served as Accounting and Audit Chair. Gabriel is committed to helping students and growing relationships.