Sigma Iota Rho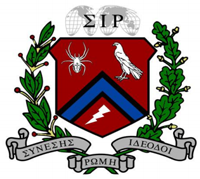 Students who have a grade point average of 3.4 in their major and 3.3 overall are eligible for membership in the honor society of international studies, Sigma Iota Rho. The purpose of the Society is to promote and reward scholarship and service among students of International Studies, and to foster integirty and creative performance in the understanding of world affairs. Membership in Sigma Iota Rho is intended not only to enhance the credentials of its members, though public recognition of the best and the brightest students in international studies is one of our main purposes, but is meant to encourage a life-long devotion to a better understanding of the world we live in and to promote continuing support for and engagement in education, service, and occupational activities that reflect the mission of Sigma Iota Rho.
Membership & Chapter Structure
Executive Committee

Public Relations Committee

Outreach and Service Committee

Alumni Committee

Current Members

Natalie Faria*
Caitlin Jaye*
Robert Jones*
Alex Kiselev
Nathalia Mattos*
Richard Pemberton*
Michael van Oppen

*- senior standing

SIR Alumni

Rocio Echeveste
Jessica Fisher
Audra Mazak
Spencer Tobi
Nicholas Lemon

Faculty Board

T. Wayne Bailey, Ph.D., advisor
Eugene Huskey, Ph.D.
Stephen Day, Ph.D.
Carolyn Mueller, Ph.D.
Margaret Venzke, Ph.D.

Advisory Board

Ana Eire, Ph.D.
Paula Hentz
Eric Kurlander, Ph.D.
Leander Seah, Ph.D.
Robert Sitler, Ph.D.
Russel Triplett, Ph.D.
Nancy Vosburg, Ph.D.
Eligibility Requirements
Students must meet the following criteria:
Have completed course work in international studies including courses in relevant subject areas of economics, foreign languages, geography, history, political science, and other related disciplines;
Have attained a junior standing.
Have attained a cumulative grade point average of 3.3 or higher in all courses, and a grade point average of at least 3.4 in international studies courses.
Must maintain full-time student status of at least twelve hours to be a voting member or hold an office.
Application Information
Students who meet the requirements will be sent an invitation to join the chapter. Otherwise, please fill out our application form and submit it to the Political Science Office (Elizabeth 334), together with the $45 induction fee.