Why I Give
Meet a few of our many donors and learn what motivated them to give back to Stetson Law.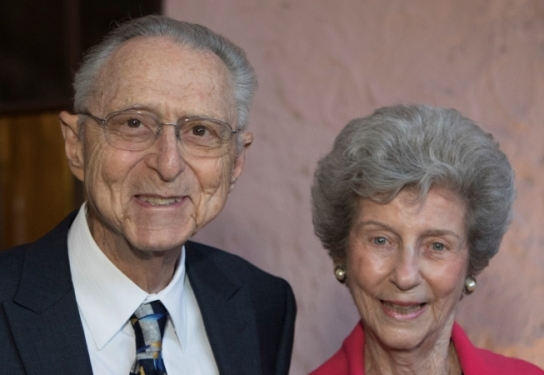 Seymour, J.D. '60 and Susan Gordon
Seymour and Susan Gordon are nothing if not dedicated. Their steadfastness is evident in all their relationships – to each other, to their daughters, to the St. Petersburg community, and most especially to Stetson Law.
Seymour graduated from Stetson in 1960, and 10 years later returned as an adjunct professor teaching domestic relations, and wills and estates. When Dean Richard Dillon passed away, Seymour contacted all his classmates to help establish an endowment for an annual award named for Dillon to be given to a graduating student.
Last year, he and his wife established the Seymour and Susan Gordon Scholarship to be awarded to a student with financial need. Their charitable gift annuity will help Stetson students in perpetuity. Above and beyond the award and scholarships, the couple consistently makes their support of Stetson known through annual giving above the Dean's Circle level.
Their "why" is simple:
"I absolutely feel that I owe a debt of gratitude to Stetson," Seymour said. "The school gave me a lifetime profession and opportunity to be an attorney and the dignity that came with being an attorney."
Susan agreed, saying that Stetson was and continues to be a big part of their lives and love story. The couple, who are now in their 80s, have been married for more than 60 years. They credit Stetson with giving them the ability to make a good living, travel, and raise their two daughters – both of whom have law degrees, including one Stetson alumna. Stetson has provided a way of life, such as events and activities at the college, that they aim to repay, she said.
Seymour has practiced law in St. Petersburg for more than 60 years in areas that include real estate, commercial, wills and estates, and estate planning. He is a past president of the St. Petersburg Bar Association, an organization that he credits for helping him make lifelong friends and encourages all young local lawyers to join.
Though they were both born in New York (Brooklyn for him, the Bronx for her), they didn't meet until they were both attending the University of Florida. They settled in St. Petersburg and found it to be a great city in which to raise a family and build a profession, but Seymour said it was the many nonprofit organizations – "the unselfish part of society" – that really made St. Pete so wonderful.
Civic engagement has always been a cornerstone of their personal and professional lives. Seymour believes it is especially important for lawyers to give back to the community because it is the right thing to do, and lawyers have a duty to share their knowledge of government and society with nonprofits. He has served on the executive board of Goodwill Industries, was president of The Hospice of the Florida Suncoast, has served the Museum of Fine Arts for over 20 years, including being on the Board of Trustees and as its president, was president of the Kiwanis Club of St. Petersburg, and has been active in organizations including the Suncoasters of St. Petersburg.
Susan served as the executive director of The Science Center of Pinellas County for 25 years and was a biology teacher in Pinellas County for many years. She was active in the local, county, and state PTA for 14 years. Susan said the world needs more ethical people – such as Stetson Lawyers – who stick to their values and principles, "and we'll keep giving for as long as we can give" to help make that possible.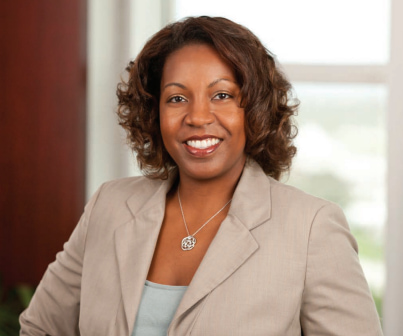 Lori Baggett, J.D. '02
Lori Baggett has thought a lot about how to be intentional in life – particularly in regard to how she spends her time, talent, and money. It is a mindset instilled in her by her parents, both of whom were schoolteachers deeply rooted in their faith community.
"My parents set a great example for me and my brother in their stewardship of time, talent, and treasure," she said.
One initiative worth Baggett's focus on was the establishment of the Baggett Family Scholarship. She hopes to continue her family's legacy by providing financial assistance for African American students interested in entering the legal profession.
Established in 2019, the Baggett Family Scholarship pays expenses for three years at Stetson Law for students who exhibit exemplary academic and personal leadership and have demonstrated financial need. The overall goal is to support the academic achievement and potential of African American students who, through sharing their varied cultural perspectives, will enhance the education of all law students and the excellence of the Stetson College of Law.
"I was blessed to earn a diversity scholarship from the State of Florida called the Minority Participation in Legal Education (MPLE) that was matched by Stetson, allowing me to obtain a full scholarship for law school and additional funds toward The Florida Bar exam," Baggett said. "It was a great benefit to me and a reward to be able to receive something like that and helped propel my career."
If we want historically underrepresented groups to achieve greater educational advancement in the legal profession, then financial assistance earmarked for them is key, Baggett said. Increasing diversity and equal representation in the practice of law is important to her, and she realized she needed to take an active role to make that happen.
"You have to be intentional about the things you are passionate about," Baggett said.
She grew up in Crestview, Florida, and played Division I college basketball at the College of Charleston and at the University of South Alabama. Baggett earned a bachelor's degree in English with a minor in African American studies and sought a new avenue to continue the reading and writing she loved while incorporating analytical and critical thinking. Law offered that. And Stetson offered a beautiful campus with no distractions and a scholarship match that made it the obvious choice.
During law school, she was active with Black Law Students Association, as well as Moot Court and Law Review. She won a Labor and Employment Moot Court competition, and that experience, along with internships and courses taught by Professor Emeritus Robert Bickel, helped inform the direction her law career would take.
Baggett graduated in 2002 and is Vice President and General Counsel with PODS. Before joining PODS she was a Managing Partner with Carlton Fields in Tampa, representing companies in many aspects of labor and employment law, with particular expertise in workplace safety and health (OSHA) issues.
Despite a busy career, Baggett continues to be involved with the Stetson community and is a member of the Stetson Law Board of Overseers. She wants her fellow alumni to understand that giving back does not have to be through monumental, one-time gestures. Small, monthly donations have a cumulative effect and provide vital support for Stetson's mission.
"Give what you can, when you can. Many people are intimidated by the impression they must give a large gift at end of the year, but for most of us, it's more palatable to break it up and donate monthly," Baggett said. "It can be regular, intentional giving over time. If everyone gives what they can, it will have an impact!"
Legacy is important, too. Baggett lost her brother in 2018. It made her think about how she can both leave the world a better place and have an impact while she's still here – to be intentional about where to give her time and treasure. It had to be for something of significance to her, and again, Stetson was the obvious choice.
"Stetson is important to me."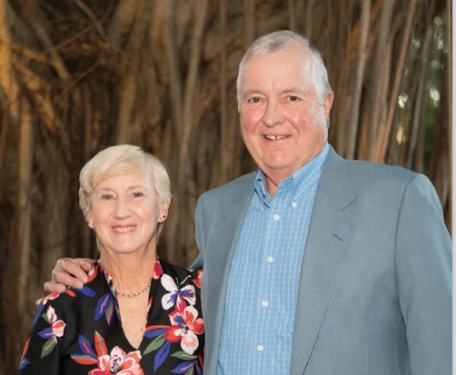 Patricia Smith and Jeff Smith, J.D. '73
Recently, Jeffery Smith J.D. '73 visited Stetson Law for the first time in decades. During his long overdue tour of the Gulfport campus, Smith said he was so inspired by the students that he met that he decided to establish a scholarship. He said he felt it was his time to give back to a place that had given him so much. Without the full scholarship he received at Stetson Law and the Army, Smith says he would not have had the same opportunities.
"It is my moral obligation to give back," Smith explained.
After joining the Army and graduating from the University of Florida, Smith set his sights on law school. Shortly after his LSAT scores were published, he received a phone call from Stetson Law, offering him a full scholarship. He and his wife, Patricia "Trish" Smith, whom he married during college, moved to Gulfport.
Smith always wore a suit and tie to class in law school. He was always prepared to be put on the spot by a professor at any moment. Today, he credits these tough professors with preparing him for anything. While at Stetson, Smith served as social chair of Phi Alpha Delta and was later elected chapter president. He recalls that only two women were in his 1L class, a trend he is glad to see has changed. Initially, tax law and estate planning were his focus. This later changed when he met Phil Schaller, the acting state attorney at the time. Schaller offered Smith a position in a criminal prosecution task force, which he accepted. After a few years on the task force, he transitioned into private practice.
In private practice, Smith provided criminal defense largely for those accused of homicide and crimes involving narcotics. He said that he liked that he was not sitting behind a desk all day. However, after some time, he left the office wondering if his impact on society was positive. He was bothered by the cutthroat nature of criminal law.
"If you can't win ethically and righteously, it isn't worth doing," said Smith. "Whatever you do in life, you must follow your moral compass." His moral compass led him back to the state prosecutor's office. Smith knew he had made the right personal decision to return to the prosecutor's office because he never left the office feeling upset. Here, he felt he was doing something positive for the community.
Smith began working in the juvenile justice division of the prosecutor's office. At that time, the county did not have a juvenile court. Seeing a need for change, Smith established the first drug, mental health, and juvenile court in Citrus County. He worked as a prosecutor for the remainder of his career and has since retired after making unforgettable contributions to Citrus County and the justice system.
Today, Jeff Smith lives in Inverness, Florida, with his wife, Trish. They have two daughters and five grandchildren. He is an avid marksman, hunter, and fisherman.
Smith said that he is now giving back to the Stetson Law to say, "Thank you." In addition to scholarships, part of his contribution has been pledged to two of the courtrooms at Stetson Law.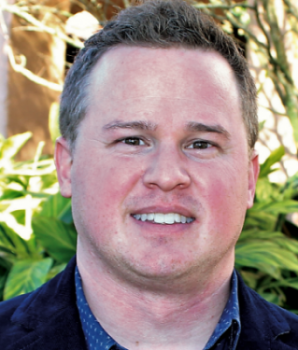 Jason Turner, JD '04
Despite a busy and thriving career in Nashville, Tenn., alumnus Jason Turner '04 has continued to stay actively engaged with Stetson University College of Law. Shortly after graduation, he joined the Stetson Lawyers Alumni Association Advisory Council and now serves on the Board of Overseers. As an adjunct faculty member, Turner has taught a course in Entertainment Law. He also has become a philanthropic supporter of Stetson.
Along with members of his family in 2012, Turner established the Leroy Y. Hooks Elder Law Scholarship in honor of his grandfather. This scholarship not only honors his grandfather but also assists in preparing future Stetson lawyers to assist the elderly in end-of[1]life issues. Turner says that he gives to Stetson, "because I believe that education changes lives, and I also believe in helping others in need while simultaneously investing in our future."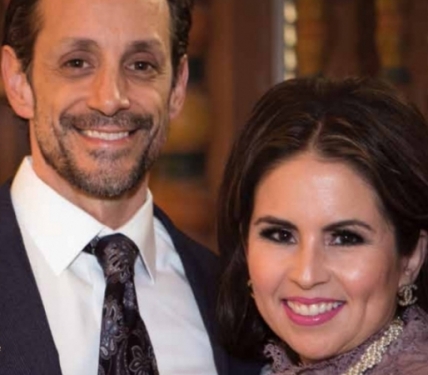 Jenay Iurato, JD/MBA '00 and Kevin Iurato, JD'00
Husband-and-wife team Jenay Iurato, JD/MBA '00, and Kevin Iurato, JD'00 want to provide future students with the same opportunities that they received at Stetson.
Not only did their life together start at Stetson, where they met, but the seeds of their professional career were also planted at Stetson. The couple founded the Iurato Law Firm in Tampa several years ago.
The Iuratos are committed to giving back to Stetson, establishing the Iurato and Martinez Family Scholarship in 2018 to provide need-based assistance to a Hispanic student in good academic standing.
"My father is a barber, my mother a stay-at-home mom, and with both being Spanish, my father learned all of his English from my mother," said Jenay Iurato, who wanted to be an attorney since she was a child. "They both worked very hard to supplement their income for my sister and me to obtain an education they never received. I know there are many other Hispanics who grew up similarly so I would like the opportunities I was given to impact someone like me."
She said her father taught her the importance of giving back, telling her that "If you are giving and it doesn't hurt, then you're not giving enough."
"As donors, we hope to set an example to other alumni that demonstrates even if you are raising young children, giving to various charitable organizations, and/or have other obligations, it's important to remember how Stetson played a vital role in where you are today and you should always give back."
Kevin Iurato received a merit-based scholarship from Stetson, so he knows that every dollar helps.
"It's not about how much money you have, it's about what you choose to do with your money," he emphasized. "We established this scholarship because for us it was the right thing to do. The school needs people like us to do this. We have two children and if they chose to attend law school, I would hope that they would have the opportunity to earn a scholarship."
The Iuratos are also dedicated to giving back to the community. Jenay Iurato is the former president of the Tampa Hispanic Bar Association and has received the Tampa Hispanic Bar Association Luis "Tony" Cabassa Award for her human trafficking advocacy and pro bono legal assistance to human trafficking survivors and victims.
"It's horrific," said Jenay Iurato of human trafficking. "And that's why no one should turn their back on it. Every victim and survivor deserves help and a voice."
"Every person who graduates from Stetson receives a very unique education," said Jenay Iurato. "I can't imagine not giving back to Stetson because what Stetson gave me is something I would never be able to repay. Stetson gave me the skills to not only be a lawyer but to also be an advocate to help people that I didn't even realize I would be able to help."