FERPA Compliance Training Program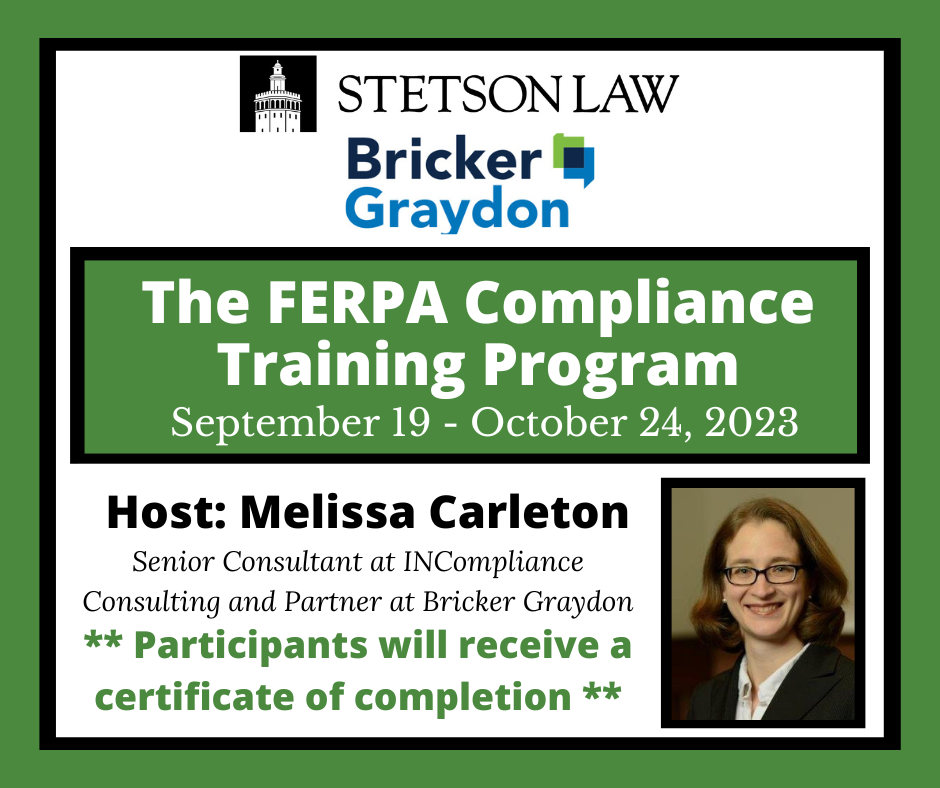 In today's education landscape, ensuring the privacy and security of student information is of paramount importance. This dynamic, six-week program is designed to equip you with the knowledge and skills needed to navigate the intricacies of FERPA regulations effectively. Whether you are an educator, administrator, or anyone dealing with student records, this program will empower you in your compliance work and help to safeguard sensitive student data.
Program information
Program duration: Every Tuesday for 6 weeks from September 19, 2023 to October 24, 2023. Classes start at 6 p.m. and end at 7 p.m.
Location: Virtual/Online
Cost: $399 per person
Instructor/Facilitator: Melissa Carleton - Partner & Higher Education Chair, Bricker Graydon
Program Highlights
In-Depth Modules: Delve into the core concepts of FERPA through interactive and engaging modules. Using decades of experience as a higher education consultant and attorney, Melissa Carleton will break down complex topics into easily digestible lessons. Your instructor is a lawyer who knows how to communicate to non-lawyers as colleagues.
Real-World Scenarios: Learn how to apply FERPA regulations in real-world situations, thus enabling you to make informed decisions that protect student privacy while fostering educational excellence.
Collaborative Discussions: Engage with peers from diverse educational backgrounds. Share experiences, discuss challenges, and gain insights that go beyond the curriculum.
Personalized Guidance: Our seasoned instructor brings a wealth of experience to the table. Get your questions answered and receive instruction tailored to your specific needs.
Certification: Upon successful completion of the program, you will receive a prestigious FERPA Compliance Training Program Certificate. This one of the most highly sought-after badges in the field: cohorts routinely fill fast. Should you miss this opportunity in the Fall please ask to be placed on a waiting list for the next cohort to be announced later this Fall for Spring 2024.
Why Choose Our Program?
Extensive Curriculum: Programming that extensively covers FERPA compliance in depth, ensuring you are well-versed in the regulations.
Flexibility: A recording of each session is available on request to accommodate busy schedules.
Networking Opportunities: Connect with professionals in the education sector, expanding your knowledge and connections.
Practical Insights: Gain insights you can immediately apply to your role whatever that may be, making a positive impact on your institution's compliance efforts.
GROUP/INSTITUTIONAL RATES ARE AVAILABLE
Don't miss this chance to elevate your FERPA compliance knowledge and contribute to a safer and more secure educational environment.
Ready to take the next step? Click here to enroll now and secure your spot in the upcoming FERPA Compliance Training Program cohort.
If you have any questions, reach out to Stetson University College of Law Center Coordinator for the The Center for Excellence in Law and Higher Education Policy, Grace Moseley at [email protected]