Past Presidents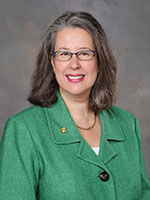 Wendy Libby
Wendy B. Libby, PhD, became the ninth president of Stetson University in July 2009. From new academic programs and national rankings to campus renovations and the return of Hatter Football in 2013, Stetson experienced tremendous growth under her leadership. Undergraduate enrollment rose nearly 50 percent, to more than 3,000, while the university's endowment has nearly doubled, to more than $200 million. The $150 million Beyond Success – Significance Campaign took Stetson to even greater heights, with the establishment of the Brown Center for Faculty Innovation and Excellence, the Hollis Family Student Success Center, the Marshall and Vera Lea Rinker Welcome Center, and the Sandra Stetson Aquatic Center. Dr. Libby continued to build on Stetson's values-centered heritage and tradition of academic excellence and community engagement.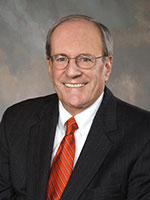 H. Douglas Lee
H. Douglas Lee graduated from the University of Richmond and received advanced degrees in Theology (Southeastern Seminary) and Religion and Ethics (University of Iowa). He spent time as an administrator and as a professor of religion at Virginia Intermont College, then moved into an administrative position at Wake Forest University. He came to Stetson in 1978 as the vice president for development and succeeded Pope Duncan as president in 1987. Under his leadership, various buildings were added to campus, including Griffith Hall, the Hollis Center, the Wilson Athletic Center, the Lynn Business Center, new dormitories, the Hand Art Center, McMahan Hall, and the Rinker Environmental Learning Center. Highlights of the Lee administration include the $200 million dollar fund campaign, the opening of the Stetson Celebration Center, the construction of Melching Field at Conrad Park (a state-of-the-art baseball stadium), the expansion and renovation of both the duPont-Ball Library and Sage Hall, the inauguration of the Institute for Christian Ethics and the Howard Thurman Program (established to integrate the works of scholars and community leaders to seek solutions to social, religious, and ethnic problems), and the creation of the University Values Council. Students often ask what the H in H. Douglas Lee stands for -- and the answer is Howard. Lee retired in 2009 and was named chancellor of Stetson University. He died unexpectedly a few months after his retirement.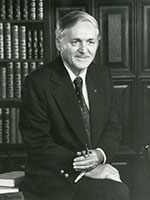 Pope Duncan
Pope Duncan devoted himself to Stetson for more than five decades, first as a professor of religion (1946-1948 and 1949-1953), then as president and chancellor. Duncan held degrees in both physics and theology and was an ordained minister who served several churches before moving into education. Before becoming president of Stetson at age 57, he served as president of both South Georgia College and Georgia Southern College. For a time while he was president of South Georgia College, he simultaneously held the position of dean at Brunswick College. As Stetson president, Duncan celebrated the University centennial and oversaw its selection for the first private university chapter of Phi Beta Kappa in Florida. He initiated a 10-year $50 million fundraising campaign, which was completed in six years. In 2002, Pope Duncan retired officially as chancellor; at that time the Board of Trustees named him Chancellor Emeritus of Stetson University.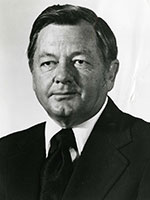 John E. Johns
John E. Johns was the first Stetson administrative officer (Vice President for Finance and Planning) to become a Stetson president. After being named Acting President in 1969, he officially assumed the office in 1970 at age 49. Before that, he had spent a number of years as a Stetson history professor and as a Stetson business manager. Johns increased the endowment and operating funds, and during his tenure Edmunds Center was constructed and major improvements were made to the College of Law in Gulfport. Johns also strengthened the intercollegiate athletic program and the competency-based student teaching program. Johns resigned in 1976 to accept appointment as president of his alma mater, Furman University.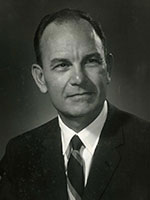 Paul F. Geren
As a veteran foreign service officer, Paul F. Geren had a wide-ranging career in government, including service as an economic counselor at the American Embassy in Libya. He also helped to establish the Peace Corps and served as a deputy director of that organization. Geren was a former vice president of Baylor University and was 54 when he was appointed Stetson president. During his brief time as president, Geren initiated a successful foreign exchange program. He resigned from Stetson in 1969, but died in an automobile accident just days before his resignation was to take effect.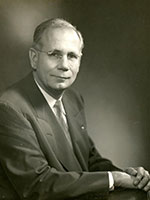 J. Ollie Edmunds
The first and only Stetson alumnus to become president to date, J. Ollie Edmunds was 46 when he became the fourth president of Stetson. Unlike his predecessors, Edmunds was not a professional educator; he was a former lawyer, Duval County judge, and businessman who had made an unsuccessful run for the U.S. Senate against Claude Pepper in 1944. Under Edmunds' leadership, a planning and development office was started and modern fundraising techniques began. With the money raised, more than a dozen new buildings were constructed on campus, including the duPont-Ball Library, the Carlton Student Union Building, Allen Hall, Sage Hall, Davis Hall, along with several new dormitories. The College of Law was moved to its present Gulfport (St. Petersburg) site. J. Ollie Edmunds resigned in February 1967 to return to private business and was named the first Chancellor of the University by the Board of Trustees.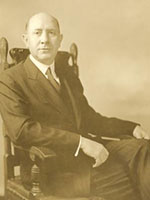 William Sims Allen
William Sims Allen graduated from Baylor University and earned advanced degrees from Columbia University. Allen returned to Baylor where he served as vice president and chairman of the school of education prior to coming to Stetson at age 46. Although Allen coped with the challenges of the Depression years and World War II, Stetson grew from a few hundred students to 2,000 during his time in office. In order to deal with the rapid growth, Allen initiated a program of expansion that included establishing separate schools for the disciplines of music and business. The physical campus also grew during this period and higher academic standards were put in place. The Allen inaugural address was carried over the first Florida statewide radio transmission. He resigned due to illness in September 1947.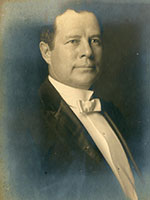 Lincoln Hulley
Lincoln Hulley had the longest tenure of any Stetson president to date. He guided the University through the World War I and Depression years. Hulley graduated from Bucknell University and went on to Harvard for post-graduate study. He returned to teach history at Bucknell and from there came to Stetson at age 39 to become president. Hulley was considered a great orator and was a prolific author and playwright. He composed a number of original plays for production by Stetson theater students. While serving as Stetson president, he also served two terms in the Florida State Senate starting in 1918. The student body grew to 500 during his time in office and accreditation was obtained from leading accrediting agencies. New buildings during the Hulley years included Stover Theatre, a Carnegie Library (now Sampson Hall), Conrad Hall, Cummings Gymnasium, Hulley Gymnasium, and the original Commons building (which later burned down over Christmas break 1954/1955). Lincoln Hulley died in office in 1934.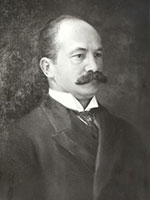 John F. Forbes
Henry DeLand, founder and president of DeLand Academy from 1883 to 1885, personally selected John F. Forbes to be the first president of DeLand College, which became John B. Stetson University in 1889 and later became Stetson University. Forbes graduated from Rochester University and was a former professor at the State Normal school in Brockport, New York; he was 32 when he assumed the office of president. He received a starting salary of $2,000 a year plus room and board for himself and his family. Enrollment grew from 88 students to almost 300 during the Forbes tenure and a number of buildings were constructed, including Stetson Hall, Chaudoin Hall, Elizabeth Hall, Flagler Hall, and the residence of the President. Forbes oversaw the start of the first law school in Florida at Stetson in 1900. Forbes resigned in 1903 to enter private business. Although he left Stetson after his resignation, he was kept on the payroll until the Trustees officially accepted his resignation in 1904.