The Stetson Fund
Building a Solid Foundation for Significant Lives
For What Matters Most
Your gifts help us fund the moments that matter. By donating to the Stetson Fund, you support the greatest needs of the university and what makes a Stetson education distinctive and relevant.
A Stetson education is rooted in our mission and values:
Exceptional Faculty
We believe in mentors who recognize students' potential, challenge them to reach new heights, open doors and become their biggest cheerleaders. Your gift ensures that Stetson University has the depth of resources to attract and support talented faculty, and to provide professional development opportunities that enrich their own learning.
Dynamic Students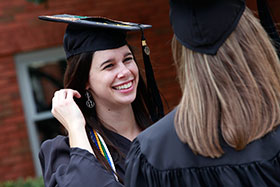 We believe in students who embrace challenge, who are becoming dynamic leaders and passionate global citizens. Your gift ensures that Stetson University offers scholarship aid to attract talented students; supports their side-by-side work with faculty; gives them a competitive advantage; funds study abroad opportunities, internships and research; and engages them in athletics and a vibrant campus life.
Academic Innovation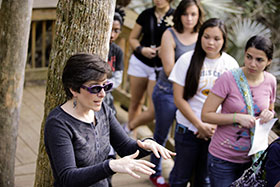 We believe in scholarly research and creative activity that make a university an exciting global leader. With transformative approaches in teaching that research supports as most effective, we actively involve students all the way. Your gift ensures that Stetson University remains cutting edge, draws national attention, and instills in her students the knowledge and wherewithal to lead significant lives.
Engaging Environments
We believe in an environment that supports student learning with labs, studios and classrooms that are world-focused, and grounds that are beautifully maintained. Your gift ensures that Stetson University is attractive and inviting, offers distinct advantages over our competitors, and supports an active campus that teems with creativity, inspiration and community spirit.
Your Gift Counts
The Stetson Fund is a critical part of the university's budget. While unrestricted gifts allow us to direct your support to our highest priorities and most critical need, you may also choose to direct your support to other designated areas of interest by selecting or noting these designations. Learn about the different ways to give to Stetson University.
Donations to the Stetson Fund are tax-deductible, current-year gifts, received and put to use in the same fiscal year (July 1 to June 30).
Choose from several gift options - give or pledge now, make a one-year or multi-year pledge, or set up a monthly recurring gift via credit card or bank debit.
The latter two plans are easy ways to maximize the power of your giving while increasing the return to Stetson University. Even larger gifts are manageable when you give incrementally over a period of time. Also, by participating in a pledge plan, you help reduce paper and postage costs, which ensures your dollars go further.