The Stetson Fund for Scholarships
Building a Solid Foundation for Significant Lives
For What Matters Most
The Stetson Fund for Scholarships ensures that academically qualified students of every economic, ethnic and social background are welcomed into more than 135 years of unbroken tradition of challenge, learning, exploration and growth. Every time you give to the Stetson Fund for Scholarships, you make an investment in our students' futures.
Dynamic Students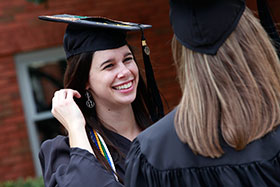 We believe in students who embrace challenge and who are becoming dynamic leaders and passionate global citizens. Your gift ensures that Stetson University offers scholarship aid to attract talented students; gives them a competitive advantage; and engages them in a vibrant campus environment.
Academic Innovation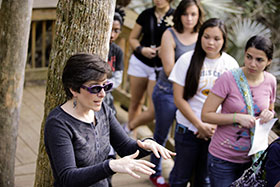 With transformative approaches in teaching that research supports as most effective, we actively involve students all the way. Your gift ensures that Stetson University remains cutting edge, draws national attention, and instills in students the knowledge and wherewithal to lead significant lives.
Your Gift Counts
Donations to the Stetson Fund for Scholarships form a critical part of the university's budget. You may also choose to direct your support to other designated areas of interest by selecting or noting these designations. Learn about the different ways to give to Stetson University.
Donations to the Stetson Fund for Scholarships are current-year gifts that are received and put to use in the same fiscal year (July 1 to June 30). They are tax-deductible to the extent allowable by law.
You may choose from several gift options, including a multi-year pledge or monthly recurring gift. These plans are easy ways to maximize the power of your giving while increasing the return to Stetson. Even larger gifts are manageable when you give incrementally over a period of time. Participating in a pledge plan helps reduce paper and postage costs, which ensures your dollars go further.