Accommodations - National Conference on Law and Higher Education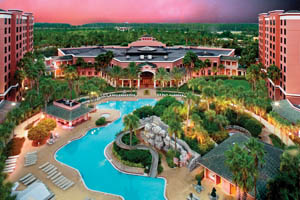 The National Conference will be hosting a variety of evening events, ranging from a reception dinner to informal mix and mingles. Stay with us, and enjoy the opportunties to network and socialize with other professionals in your field, while at the same time, avoiding the Orlando traffic hassles.
The high standards of the Caribe Royale have redefined the Central Florida travel experience for leisure and business travelers alike.
As the name suggests, the Caribe Royale has blended lush landscaping, cascading waterfalls, and an array of amenities to create its own tropical rendition of classic hospitality. Situated on over 45 acres of stately palms and fragrant bougainvillea, and located just one-and-one-half miles from the Walt Disney World® Theme Parks, the Caribe Royale accommodations feature suites and villas perfect for family vacations or business meetings, and state-of-the-art meeting and convention facilities.
To reserve your room:
Room rates start at $179. Rooms are suite style in order to accommodate 3-5 people, depending on your room choice.
If you are unable to reserve a room, please contact Stetson's Center for Higher Education Law and Policy at 727-562-7392.