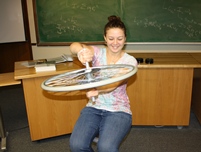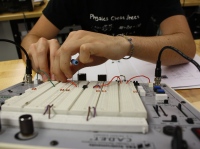 Physics at Stetson
Located in the two north corridors of Sage Hall,
the Physics Department facilities are state-of-the-art and our faculty are dedicated to undergraduate education in physics.
teaching laboratories with computers at every lab station and the latest equipment. The labs are maintained and updated through an endowment established by the Kresge Foundation, which allow substantial purchases and updates to be made to the equipment on an annual basis.


research laboratories in which cutting edge research is being done by our faculty. Students are invited and encouraged to participate in this research. Such opportunities are rare for undergraduates and are frequently not available at other, especially larger institutions.


an

extensive list of equipment

available to our UNDERGRADUATE students - some of which is not generally accessible to undergrads at major universities.


a fully equipped machine shop with a full-time machinist. This allows the faculty to modify existing equipment or create unique, custom-made equipment as needed for the labs or for specific research projects.
The Physics Department has four Ph.D. physicists on the faculty. Our faculty
value teaching undergraduate students and have chosen to teach at Stetson so that they may do so.
The faculty maintain open office hours and can be found in the building throughout the day. They encourage students to drop by anytime they are not in class to discuss physics, their coursework, their career goals, or any other concerns they may have.
The Physics Department is
a very supportive department

.

Class sizes are kept small

.

This allows students and faculty to get to know each other, and it allows faculty to tailor their teaching to meet the specific needs of the students enrolled in a course. The department provides free tutoring to all students enrolled in the introductory level courses, and of course all students are encouraged to meet with their professor if they need extra assistance. Tutoring is held in a computer lab, and students may drop by to use the computers as well. The department also has a reading room. Students are encouraged to work their homework problems together, and this room is a gathering place for all students in the natural sciences. Finally, the department is able to provide offices to all its upper-class majors; these offices have Ethernet ports to the campus computer network, so students can hook their computer up to the Internet.
All of this, we think, shows
Stetson is a good place for learning and doing physics.

To get to know us better and to learn what our students say about us, check out our "See It Our Way" page.
The Physics Department has integrated student research into the curriculum.
A major research project is conducted by all senior majors. Students have the chance to design a project, carry it out, and then present their results to their fellow majors. Recent student research projects range from examining the vastness of the universe to the minuteness of atoms as viewed through our scanning tunneling microscope and from the physics of musical instruments and baseball bats to the surface structure of silicon crystals used in computers. While students are encouraged to pursue topics of their individual interests, they are also invited to work on the professional projects of the faculty as well.
Should a student desire to participate in research beyond the senior research project, many options are open. In addition to the opportunity to do the professional research mentioned above, many opportunities off campus are open to our students, like REU's (Research Experience for Undergraduates) or internships. Finally, the faculty often take students to the annual meeting of the Southeast Section of the American Physical Society (SESAPS) in November. Our students present papers on their research and we have had multiple winners of the Marsh W. White Award for best student paper at this conference.
The physics majors at Stetson are a friendly group.
Homework is done cooperatively, not competitively.
The department has active chapters of The Society of Physics Students (SPS) and Sigma Pi Sigma, the physics honor society. These organizations sponsor field trips (such as to watch a space shuttle lift-off, and to the Center for Research and Education in Optics and Lasers, CREOL, at the University of Central Florida), visiting guests (SPS sponsored a reception after the lecture presented by Lawrence Krauss, Ph.D., bestselling author of The Physics of Star Trek), pizza lunches, an annual T-shirt contest, star-gazing parties, and even an occasional movie night, bowling expedition, or pancake breakfast at a local state park. Information on all activities sponsored by the students and the department are posted around the building.
Our
graduates...
...have gone on to graduate study at a wide variety of prestigious schools, including Yale, Dartmouth, Cornell, University of Minnesota, and Stanford University. It should be noted that about 50% of Stetson physics graduates pursue graduate study in engineering. And, almost without exception, our graduates obtain full funding for their graduate study. When they have completed whatever level of schooling they choose to pursue, our graduates find themselves employed at companies such as Honeywell, Martin Marietta, AT&T, and Oak Ridge National Laboratory, and some are on the faculty at institutions such as University of North Carolina at Chapel Hill, West Point, and Stanford Medical School. Some have formed their own businesses, ranging from medical practices to a nuclear power consulting firm.
The department strives to keep in touch with all of our graduates, and we publish an annual newsletter, Cross Section, where our alumni can share news about their careers, lives, or family, and we share all the latest goings-on around the Department.
Finally, we feature our alumni on our web site with a "Featured Alum" program. This page spotlights the achievements of one of our alumni, and it includes an open letter from our featured alum to our majors. We encourage you to meet our current "Featured Alum".