Madyson Gennett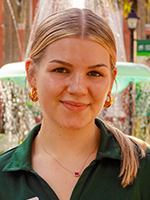 Hometown: Winter Garden, FL
Major: Psychology
Minor: Business Law
Class Year: 2024
Involvements on Campus:
Student Ambassadors, Mock Trial Team VPI, Phi Alpha Delta Secretary
What I Like to Do on Weekends:
I like to hang out by the pool or go to the gym and enjoy my downtime (if I have any)!
My Favorite Class at Stetson:
Behavioral Statistics with Robert Askew! He is the first professor who has bothered to challenge my thinking and make me understand why things are the way they are instead of having me memorize things without any deeper understanding. He cares less about test grades and more about people's intellectual understanding. His class is tough, but totally worth it!! He's amazing!
Advice to Prospective Students:
DO YOUR CULTURAL CREDITS and plan your classes ahead of time (aka. not 2 hours before registration).
Favorite Place on Campus:
Palm Court!!! SO pretty.