Janelle Gilyard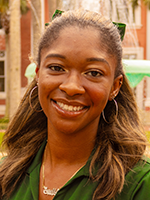 Hometown: Lake Mary, FL
Major: Corporate Finance; Business Systems and Analytics
Minor: Statistics
Class Year: 2025
Involvements on Campus:
Student Ambassadors, Alpha Kappa Psi - Vice President of Finance, FOCUS Orientation - Assistant Coordinator
What I Like to Do on Weekends:
On weekends when I am not working at my job, I love to go to Universal Studios, Islands of Adventure, or CityWalk with my family and/or friends. Throughout the day we get to share our experiences together no matter the conditions. Walking around in the Florida heat or waiting in lines comes with its own joy when we make those boring moments special by filling them with conversations or games to kill time. From start to finish, I get to have fun and spend time with the people I love.
My Favorite Class at Stetson:
My favorite class at Stetson so far has been the West in Question. This took a lot of reading and writing but in the end, it was all worth it. I'm a Finance major, so typically math classes are my strong suit. This FSEM truly challenged me to push the limits of my analysis. To compose a correct research paper, I had to analyze historical events and determine how they affected political, social, and economic structures. Learning about all these aspects of Western Europe helped me connect them to situations occurring in the present.
Advice to Prospective Students:
Stetson University is a space where everyone can come to feel welcome and connected. Coming to a smaller university allows us to build deep-rooted bonds and relationships with those around us. In my first semester alone, I was able to form wonderful bonds with all my professors who I still keep in touch with. Becoming involved on campus is even more exciting by meeting new people who are involved in the same passion but come from diverse backgrounds.
Favorite Place on Campus:
My favorite place on campus is Libby Lawn. Sitting at the tables or around The Rock allows me to feel involved in everything. There's always someone you know walking by and stopping to talk to you. This is also the location of a lot of non-curricular activities where my friends and I can go to just have fun!