Faith Patterson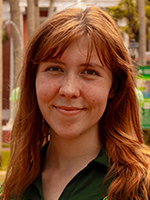 Hometown: St. Petersburg, FL
Major: Applied Mathematics - Physics concentration
Class Year: 2025
Involvements on Campus:
Kappa Alpha Theta - Vice President of Finance, Omicron Delta Kappa - General Member, FOCUS Leader, Student Ambassador
What I Like to Do on Weekends:
I love to go to the beach or the pool! With the beaches only a 30-minute drive from campus, I try to plan beach trips with my friends and take advantage of how close we are. Another thing I like to do is go around downtown DeLand and shop at all the local businesses we have.
My Favorite Class at Stetson:
Right now, my favorite class is University Physics. The professor is always willing to help and I work closely with my classmates to complete assignments.
Advice to Prospective Students:
Plan your time wisely! If you haven't already, start using a planner or calendar software to plan out future classes, assignments, club meetings, and more so you can maintain a healthy work-life balance.
Favorite Place on Campus:
My favorite place on campus has to be Brown Hall. I love all the study spots in Brown and that the building is connected to Sage Hall so I can get to my other classes with ease.