Brianna Camacho Basabe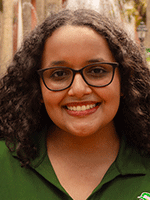 Hometown: Kissimmee, FL
Major: Biology (Pre-Vet)
Class Year: 2026
Involvements on Campus:
Student Ambassador, Resident Assistant, Equipment Manager, Baking Club, FCA, and Pre-Vet Club
What I Like to Do on Weekends:
I love spending time with my family (on campus or back at home), relaxing in my room while watching shows, playing video games, drawing, and cooking/baking.
My Favorite Class at Stetson:
Biology 141 with Professor Dye! She is such a fantastic professor who made the class super entertaining and made the material actually stick to my brain. While it may seem like it is a lot of work and the test might be a little long, it is the only class that every time I hear something relating to it in my other classes it makes me so excited!
Advice to Prospective Students:
Please don't be afraid to reach out to your professors. They are here to help you out with anything you need, whether it is to understand a specific topic you are confused about or to build a relationship that can come in handy when doing your senior research or even recommendation letters for schools!
Favorite Place on Campus:
I love the library! Not only is it a great place to study, but it holds so many resources for students to use. The library has tutoring, an innovation lab, printing, a writing center, study rooms, quiet areas, vending machines to get some snacks while studying, etc. Plus, the library also holds the therapy dogs events which is always a plus!