Academic Program - The Hague, Netherlands
The Hague program contains four separate one-credit-hour courses. Classes will meet during the mornings, Monday-Thursday, leaving afternoons and three-day weekends free for travel and other activities. All course instructions will be in English.
This summer study abroad program has been approved by the American Bar Association.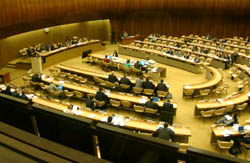 The Hague program includes the following modules.
Domestic and International Mass Claims Processes (Prof. Jason Palmer, Stetson)
International Court and Net Neutrality Enforcement (Prof. Ashley Krenelka Chase, Stetson)
Inheritance Law (Prof. Phyllis Taite, Oklahoma City)
Resolving Procedural Conflicts in Transnational Litigation (Associate Dean Wendy B. Scott, Elon)
See Courses for a more complete description of the classes offered this summer.
Classrooms
Classes will be held at The Social Hub in The Hague, Netherlands. The administrative office of the resident directors for the program is located nearby the classroom.