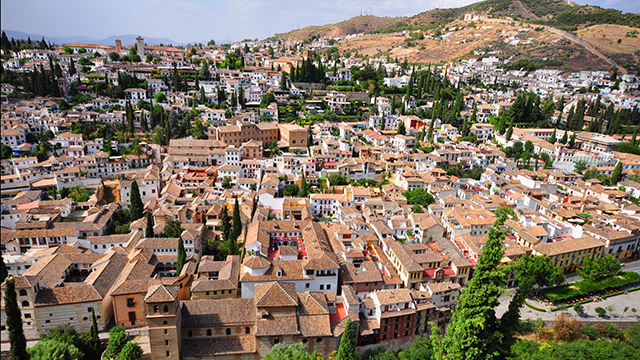 Madrid, Spain Exchange
Term Dates for Outbound (Stetson) Students
Fall 2021 at Universidad de Granada
Eligible Semester:
Exchange Only: 2L Fall, Spring; 3L Fall (One or Two semesters)
Dual-Degree: 1st summer, 2L Fall, Spring; 3L Fall (Two years)
Degree Earned: Exchange Only: N/A
Dual-Degree: Master of Legal Practice
Language of Instruction: Spanish
U.S. Citizen need a Visa? U.S. citizens must apply for a visa through the Spanish Embassy.
Mailing Address:
Universidad de Granada
Hospital Real, Avenida del Hospicio s/n
C.P. 18071, Granada, SPAIN
Website
:
www.ugr.es/en
First Semester:
September to January
(exams January to February)
Second Semester:
February to June
(exams June to July)


February - June
(exams June - July)
Application Deadlines for Stetson Outbound Applicants
February 15 (for fall entry)
October 15 (for spring entry)
Stetson students may spend one or two semesters studying at Universidad de Granada. Granada provides the perfect backdrop for the study of international law. Granada is a beautiful city of about 300,000 in the southeast of Andalusia, at the foot of the Sierra Nevada mountain range. With its rich Arab past and monuments such as the Alhambra, Granada is a fascinating city in which to study. It provides students with opportunities for road trips to cities in Spain and Portugal, Southern Europe, and North Africa.
About
Preparation
Academics
Cost
Student Budget - Will be provided soon