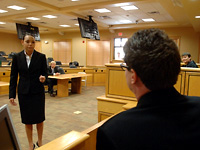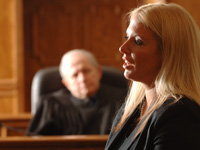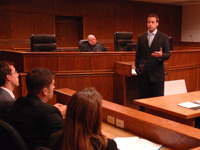 2019 Educating Advocates: Teaching Advocacy Skills
Educating Advocates: Teaching Advocacy Skills
Stetson University College of Law
Gulfport, Florida
May 20-22, 2019

Pricing:
$599 Early Bird Rate ends April 30, 2019
$699 Standard Rate

2019 Educating Advocates: Teaching Advocacy Skills
"Advocacy: Teaching Through the Twin Lenses of Diversity and Inclusiveness"
Teaching How to Write and Argue Evidentiary Motions: Methodologies, Opportunities and Potential Challenges
Ramona Albin, Lou Fasulo, Megan Chaney, Liz Boals
Break/Meet and Greet Ice Cream Social Vendor Displays
Deconstructing Competitions: What Works, What Doesn't, and How Might We Improve?
Moderator: David Erickson
Susan Poehls, Liz Lippy, Gwen Stern, Marian Bracia
New Takes on an Old Skill: Reimagining Direct Examinations
Mark Caldwell, Robert McGahey, Gillian More
How to Teach Evidence? Structure, Repetition, Challenges
Moderator: Dan Tilly Presenter:
Dan Tilly, Laura Rose, Abbie Heller, Erika McArdle
Incorporating Advocacy Training into Doctrinal Classes: The Holy Grail of Legal Education?
Moderator: Jules Epstein Presenters:
Jules Epstein, Ramona Albin, David Erickson, Lou Fasulo, Liz Boals
Discussion of Proposed NACA Mission Statement, Conversation on Structure and Implementation Timeline
Moderators: Adam Shlahet, David Erickson
Scoring Competitions, Reimagining ballots in the 21st Century: Preferred Modalities
Nancy Schulz, Jared Rosenblatt, Rob Galloway, Liz Lippy
Technology: Modalities for Success in Presentation, Teaching and Development
Building a More Diverse Trial Team/Advocacy Experience: Best Practices for Recruitment, Coaching, & Competitions
Sara Williams, Dan Tilly, Bobbie Sternheim
Edward D. Ohlbaum Professionalism Award
Lifetime Achievement Award
My favorite drill: an open session where people display and discuss their favorite drill for teaching a particular skill
Incorporating Issues of Race and Diversity into the Content of our Advocacy Teaching
Meredith Ann Schnug, Julia Metts, TBD
You Get an LL.M., You get an LL.M. You Get an LL.M: Considerations when developing and Implementing Skills Based LL.M.s and other non JD Programs at Your Institution
Moderator: Elizabeth Boals
Marian Bracia, David Erickson, Elizabeth Boals
The program has been designed so you can attend one of the two following presentations listed below.
First time attendees should attend the session
NACA Discussion: Open Forum
Awards
Lifetime Achievement Award for Excellence in Teaching Advocacy
This award is presented to recognize those who have fundamentally changed the way in which the world approaches the teaching of advocacy. Previous recipients of this award include Terry MacCarthy, Thomas Mauet, Warren Wolfson, Barbara Bergman, James Seckinger, Edward Ohlbaum, Susan Poehls, Bill Eleazer, the Hon. David Erickson, Joshua Karton, and Travis H.D. Lewin.
Edward D. Ohlbaum Professionalism Award

This award was created to pay forward the dedication and commitment our good friend Professor Edward Ohlbaum displayed, throughout his career, to the ethical teaching of an entire generation of advocates. The purpose of this award is to honor an individual whose life and practice display sterling character and unquestioned integrity, coupled with ongoing dedication to the highest standards of the legal profession and the rule of law. Previous recepients of the award were Adam Shlahet, Elizabeth Lippy and Mark Cumba. Professor David A. Erickson will chair the selection committee.
Cornerstone Award

The Cornerstone Award recognizes exceptional members of the advocacy teaching community who work tirelessly to create learning opportunities across the profession. The recipients of the Cornerstone Award are recognized for their unwavering commitment to protecting the right to trial by jury, development of training opportunities for trial lawyers, and support of the profession in both word and deed.
Vendors
We will continue our practice of inviting vendors to update you on the latest developments in advocacy-related products and teaching materials.
What Participants Have Said About Our Conference:
"Anyone interested in teaching advocates should try this out. It's important to protecting our profession and developing it along the path it needs to travel. EATS is really that important. It's been an eye-opener for me, reconnecting with the trial advocacy community. I'm going to be encouraging a number of people at my school to attend in the future."
-Lawrence Mann, Director of Practical Skills, Wayne State University Law School

"It's the only opportunity I've ever seen to get together with other people who do what you do and love it. We all just want to get better. Collaborating with these people creates new ideas that make you a better version of the teacher you already are."
-KellyAnne Holohan, Adjunct Professor, Fordham University School of Law

"EATS is in the vanguard of the legal profession. It teaches law professors to look to the future and to share all their work with other law professors. It's gaining in strength and popularity year to year and is an example of what every law school needs."
-Gillian More, Retired High Court Prosecutor Scotland

"It was great to network with teachers and coaches in the trial advocacy community in an environment, like this, that doesn't involve competition or anything formal. The free exchange of ideas was invigorating and already changed the way I coach mock trial teams."
-Mike Rasmussen, Adjunct Professor, Cumberland School of Law

"EATS is a very important thing to attend if you care about the way advocacy is taught. These are the folks who are on the cutting edge of the advocacy teaching profession. I always come away with a brand new, excellent idea for teaching my class."
-Honorable Robert McGahey, Jr., Denver District Court