Communications
The Communications Office is a part of the Stetson University Marketing division and the primary source of current and accurate information about Stetson University College of Law.
Its award-winning staff includes marketing and PR strategists, writers, artists, editors, and developers providing the following services:
Public and media relations: We connect journalists with legal scholars, publish news releases, manage crisis communications, and spread the word about Stetson University College of Law.
Creative services: We develop integrated marketing campaigns, including graphic design and editorial services for print, broadcast, online, and paid media.
Online communications: We manage the Stetson Law website, StetsonConnect intranet portal, official Stetson Law social media channels, and email marketing and newsletters.
For general assistance, email [email protected] or call 727-562-7398. For media inquiries, please call 727-562-7381.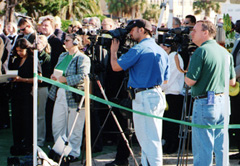 Request Forms
Resources