Theresa Jean-Pierre Coy Scholarship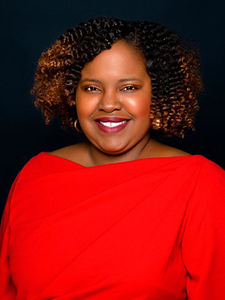 The community lost a bright and shining star on April 11, 2022, when Theresa Jean-Pierre Coy passed away. She was a true visionary and leader. Theresa was a brilliant lawyer who was a fierce advocate for justice. To all who knew and loved her, Theresa was a devoted wife, mother, and friend. Her unwavering love and steadfast devotion to her family and church continue to be an inspiration.
Theresa graduated magna cum laude from Florida A & M University with a double major in Political Science and Public Administration. She earned her Juris Doctorate from Stetson University College of Law. As a member of Stetson's Moot Court Board, she earned the First Place Best Oral Advocate Award at the E. Earle Zehmer National Moot Court Competition. Theresa graduated with a Certificate of Concentration in Advocacy and was bestowed the Victor O. Wehle Award for Excellence in Trial Advocacy by the University. She later would serve as a Trial Advocacy Adjunct Professor at the College of Law. The Hillsborough County Bar Association Trial & Litigation Section also recognized her great work with the prestigious James "Jimbo" Kynes Memorial "In the Trenches" Award for Criminal Trial Practice. Theresa was the first African American recipient of this honor since the award's inception in 1989. She would go on to serve as a guest commentator for Court TV providing valuable insight on some of the most scrutinized criminal trials across America.
Her legal career started as an Assistant Public Defender for the Sixth Judicial Circuit in Pinellas County. Always known for her professionalism and respect for her clients, fellow attorneys, and the courts, Theresa handled all cases with passion and grace. In 2010, she established Jean-Pierre Coy, P.A., where she managed criminal matters including some very high-profile cases. Theresa later returned for a time to public service as a prosecutor by leading the Conviction Review Unit of the State Attorney's Office, 13th Judicial Circuit.
Theresa was always striving for excellence whether in public service, private practice, or her willingness to volunteer and give back to the community. The accolades continued in her practice. The Criminal Law Section of the Hillsborough County Bar Association presented Theresa with the 2020 Marcelino "Bubba" Huerta III Award for professionalism, dedication to pro bono service, and her diligent work in the pursuit of equal justice. She was also honored with the G. Kirk Hass Humanitarian Award by the Florida Bar for zealously defending a client during a federal drug trafficking trial while experiencing excruciating pain caused by the return of cancer. Theresa served on The City of Tampa Mayor's African American Advisory Council advising local leaders on issues impacting Black communities in the city. Theresa was also named a 2019 Candidate for Woman of the Year Award by the Leukemia & Lymphoma Society. Finally, during the pandemic, Theresa fulfilled her dream of becoming a member of the highly esteemed public service organization, Delta Sigma Theta Sorority, Inc.
In June 2022, at the Florida Bar Convention in Orlando, Florida, Stetson University College of Law presented posthumously the prestigious Ben C. Willard Award to Theresa for her commitment and immeasurable impact to the Stetson Law community. The Stetson Law Review presented posthumously to Theresa the J. Ben Watkins Award during their annual Law Review ceremony in October 2022.
Theresa's impact on the community moves forward with the people she mentored, taught, and worked with to inspire all to achieve excellence. A Stetson Law graduate who was a beneficiary of her mentoring as a student and an attorney said "her unwavering willingness to give back to mentor students, attorneys and volunteer in the community to help people in need of legal assistance" was a part of what made Theresa a superior leader.
To honor the memory of Theresa, her lifetime of service to others, her love for the law and passionate support of the students of Stetson Law, and an advocate for all in need, friends have come together to establish the Theresa N. Jean-Pierre Coy Scholarship.
Please join family, friends, and colleagues in making a gift to this newly established scholarship to honor the work of Theresa. When endowed, the scholarship will exist in perpetuity as a tribute to Theresa and will be available to a female student at Stetson University College of Law with a financial need for tuition assistance. The student must be an active member of the Black Law Students Association (BLSA) and a member of a Trial Team Program. Please help a student achieve their dream of being an advocate for people in need. All gifts to Stetson Law are tax deductible. We appreciate your sincere consideration and look forward to partnering with you to honor our dear friend, classmate and colleague. Should you have any questions, please reach out to Patricia Toups, Director of Development, at [email protected] or 727-562-7985.