Teaching Legal Writing: Out of the Box Ideas Inside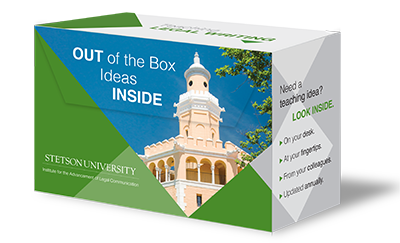 Sharing teaching ideas by connecting what's online to what's on your desk
Teaching Legal Writing: Out of the Box, Ideas Inside is a project to collect, organize, and share our community's favorite classroom exercises and other teaching ideas. It starts with a box on your desk where you can explore legal writing teaching ideas by topic. Then, when you want teaching materials to implement an idea you've found, you can go online here, in the password-protected area, and find the materials you need, all easily downloaded and customized. New Idea Cards are sent and new teaching materials are added each year.
Want The Box for Yourself?
Legal writing faculty can email [email protected] with your name and address.
We Want You in The Box, Too!
Will you share your favorite legal writing teaching ideas? If you'd like to contribute to The Box, contact us at [email protected]. Someday, we hope, The Box will be filled with dozens of cards from colleagues around the world!
Looking for Teaching Materials?
Legal writing faculty can log in with the username and password provided on The Box.