Why choose Stetson Law's LL.M. in Advocacy?
Stetson's advocacy program is one of the best in the nation. Advocacy isn't an afterthought at Stetson; it's our core mission, and it shows. Stetson is ranked #2 by U.S. News and World Report.
We not only train advocates, we also train those who teach advocacy during our annual Educating Advocates: Teaching Advocacy Skills conference. Each year, advocacy instructors and practitioners from across the U.S. and as far away as Australia and Scotland gather in Gulfport to learn how Stetson teaches advocacy and to share ideas for advancing the art of advocacy.
Stetson's leadership role in advocacy education is no accident. Rather, it's the direct consequence of the attention and resources we devote to the study and practice of advocacy. Stetson has experienced advocates on its faculty, a Center for the Excellence in Advocacy, an online Advocacy Resource Center, and no fewer than seven on-campus courtrooms that bear witness to our commitment to advocacy education.
Therefore, as you consider the best place to earn an LL.M. in Advocacy, ask yourself this: Would you rather learn from an institution where advocacy is its core mission or an afterthought?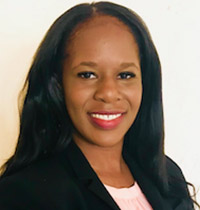 "While pursuing my juris doctorate degree I realized I wanted to become a trial lawyer. Mock Trial tryouts had already come to a close, so I looked up LL.M. programs in Trial Advocacy and Stetson's online program caught my eye. As a native of New York City, I wanted the flexibility to be able to have the feel of the classroom setting without needing to be on campus. After taking 12 credits, I am now confident that when I receive my LL.M. degree I will be equipped with the advocacy and writing skills that are essential for success as a lawyer and a leader."
Tracie T. Reese
LL.M. in Advocacy Student