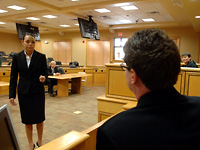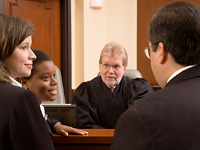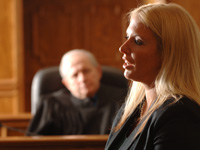 Online LL.M. in Advocacy - Program Requirements
Conferral of the Advocacy LL.M. degree requires successful completion of 24 credits in the approved curriculum. The approved curriculum includes required and elective courses.
New students may begin the program at the start of each Spring semester (January), or at the start of each Fall semester (August). However, regardless of whether a student starts in the Spring or the Fall, please note that students must take Advanced Advocacy I (6 credits) in the first Fall semester of their studies. Other than that, students may choose to enroll in the various required and elective courses that are offered each semester. See the course catalog for the various courses offered.
Courses are offered in the Fall, Spring, and Summer semesters, and students may enroll in up to as many as 6 credits (3 courses) and as few as 2 credits (1 course) per semester (although please note that usually only two courses are offered each summer due to professor availability). How many courses a student enrolls in per semester will determine how quickly they can complete the 24 credits needed to graduate.
Tuition is applied per semester, per credit hour taken. As of Fall 2023, tuition is $1,250 per credit hour, plus a $50 technology fee that is applied each semester. So, for example, if a student takes one, 2-credit class in a semester, their tuition for that semester would be $2,550.
The program is designed with the working professional in mind! All courses are designed to be as flexible and convenient as possible. The program uses an online, distance learning model including but not limited to viewing recorded lectures, live online sessions, discussion boards, and video presentations and feedback.
To facilitate an effective online learning environment, the following technical requirements must be adhered to:
Hardware
Processor: Intel i5/i7 processor or AMD processor 2 GHz or faster is strongly recommended
Memory: 8GB of RAM or higher
Wireless: 802.11 G/N/AC Compatible (Optional)
Removable Media: Headset Microphone; USB Removable Media 32GB or more (recommended)
Network: High-speed broadband connection like Cable/DSL (Dial-Up Connections are not supported)
Software
Operating System - Windows 10 or Apple Mac OS X "High Sierra" and above ("Mohave" highly recommended)
Browser - Google Chrome (highly recommended)
Office Suite - Microsoft Office365 Suite
Peripherals
High-quality web cam and headset microphone
In addition to built-in computer speakers, external speakers are recommended.
If you have any questions, please email: [email protected]