Online LL.M. in Advocacy - Admission
Application
Please be sure to review the instructions and requirements for your application.
How to Apply
To apply, please submit a completed LL.M. in Advocacy application (PDF) or, if you prefer an online application, a personal statement, and two letters of recommendation by August 1 and have all post-secondary institutions you've attended send an official copy of your transcripts directly to:
LL.M. in Advocacy
Center for Excellence in Advocacy
Stetson University College of Law
1401 61st Street South
Gulfport, FL 33707Phone: 727-562-7317Email:

[email protected]
Why Stetson Law?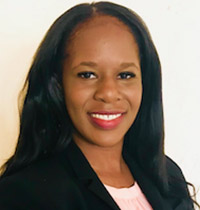 "While pursuing my juris doctorate degree I realized I wanted to become a trial lawyer. Mock Trial tryouts had already come to a close, so I looked up LL.M. programs in Trial Advocacy and Stetson's online program caught my eye. As a native of New York City, I wanted the flexibility to be able to have the feel of the classroom setting without needing to be on campus. After taking 12 credits, I am now confident that when I receive my LL.M. degree I will be equipped with the advocacy and writing skills that are essential for success as a lawyer and a leader."
Tracie T. Reese
LL.M. in Advocacy Student