Online LL.M. in Advocacy - Eligibility and Admission
Stetson welcomes talented individuals who possess a broad range of professional and academic experiences, and who meet the eligibility requirements.
Apply here by August 15:
Any questions email: [email protected]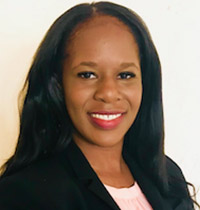 "While pursuing my juris doctorate degree I realized I wanted to become a trial lawyer. Mock Trial tryouts had already come to a close, so I looked up LL.M. programs in Trial Advocacy and Stetson's online program caught my eye. As a native of New York City, I wanted the flexibility to be able to have the feel of the classroom setting without needing to be on campus. [With] my LL.M. degree I [am now] equipped with the advocacy and writing skills that are essential for success as a lawyer and a leader."
Tracie T. Reese
LL.M. in Advocacy Graduate