Profile/Quick Facts
Founded in 1900 as Florida's first law school, Stetson University College of Law has educated outstanding lawyers, judges and other leaders for more than 100 years.
In 1954, the College moved from Stetson's main campus in DeLand to Gulfport, nestled in one of the 25 largest metropolitan areas in the United States. The College of Law opened a satellite campus in downtown Tampa in 2004. Stetson is fully accredited by the American Bar Association and has been a member of the Association of American Law Schools since 1931.
Student Demographics
2019 J.D. Entering Classes
J.D. Application Deadlines
2019-2020 Tuition
Scholarships
Faculty
Law Library
Alumni
Career Development
Bar Passage
Practical Training
Stetson at a Glance
Student Demographics* [top]
722 total full-time J.D. students
139 total part-time J.D. students
12 LL.M. in International Law students
23 LL.M. in Elder Law students
13 LL.M. in Advocacy students
8 M.J. in Healthcare Compliance students
4 M.J. in Aging, Law and Policy students
*Data as of Oct. 2, 2019
2019 J.D. Entering Classes* [top]
The information below profiles the 255 students in the full- and part-time entering J.D. classes:
Minority students: 29%; Women: 55%

27 states and 3 foreign country represented
84 colleges/universities
Age range: 18 - 63
Total new entrants: 299

Full-time: 255
Part-time entrants: 44

New J.D. students receiving scholarships: 86%
LSAT scores for fall 2019 entrants:



| | | | |
| --- | --- | --- | --- |
| High LSAT | 25th Percentile | 50th Percentile | 75th Percentile |
| Total FT/PT entrants | 153 | 155 | 158 |

UGPA for fall 2019 entrants:



| | | | |
| --- | --- | --- | --- |
| UGPA | 25th Percentile | 50th Percentile | 75th Percentile |
| Total FT/PT entrants | 3.05 | 3.3 | 3.55 |
*Data as of Aug. 26, 2019

J.D. Application Deadlines [top]
Entering Fall Semester new students: May 15
Entering Fall Semester transfer students: August 1
2019-2020 Tuition [top]
2019-20 full-time* (fall/spring) $44,468
2019-20 part-time** (fall/spring/summer est.) $37,747
*Full-time tuition does not include summer classes.
**Part-time tuition includes required on-campus summer session.

Scholarships [top]
A variety of financial aid options are available, including a range of scholarships and loans.
Stetson awards multi-year scholarships to selected entering law students. All admitted students are considered for scholarships; no special application is needed. Scholarships are awarded based on academic excellence, a range of other personal accomplishments and experiences, and the ability to further the mission of the College of Law. Applicants who wish for their unique circumstances and backgrounds to be considered should include an addendum with their application.
Visit Student Financial Planning for more information.
The full-time regular faculty of 50 professors is supplemented by two visiting full-time professors and 50 adjunct professors in specialized areas.
Law Library [top]
The three-story Dolly & Homer Hand Law Library in Gulfport is a central part of the Stetson Community, especially the students' law school experience. As a center for student engagement, students can seek research and technology instruction, find quiet places to study, and engage in wellness activities. The Hand Law Library also houses the Academic Success and Bar Prep Services Department, as well as the IT Department. And in addition to 34 study rooms and 135 study carrels in the Hand Law Library, there are three classrooms where seminar and skills-based courses are held.
Stetson University College of Law has more than 9,000 graduates, including judges, prominent attorneys, business leaders, government officials and academicians. Though 80% live in Florida, Stetson graduates practice in 50 states, the District of Columbia, U.S.V.I. and Puerto Rico, and 55 foreign countries.
Career Development [top]
Stetson provides career coaching and instructional programs for students and alumni. For the class of 2018, of 227 graduates, 209 were employed and 6 were enrolled as full-time students on March 15, 2019. Visit Employment Reports for more information.
Bar Passage [top]
Stetson's pass rate for first time-takers was 77.6% on the J­uly 2019 Florida Bar Examination. The statewide average is 73.9%.
Practical Training [top]
Stetson was the first law school in Florida to establish a clinical program. Stetson's clinics and externships include:
American/Caribbean Law Externship
Bankruptcy Externship
Bankruptcy Judicial Externship
Child Advocacy Clinic
Civil Legal Services Clinic
Elder and Disability Law Externship
Environmental Law Externship
Equal Employment Opportunity Law Externship
Family Law Externship
Federal Judicial Externship
Federal Litigation Externship
Florida Circuit Court (Appellate) Externship
Florida Circuit Court (Trial) Externship
Florida District Court of Appeal Externship
Homeless Advocacy Externship
Immigration Law Clinic
Individual Externship
In-House Counsel Externship
Intellectual Property Externship
Labor Law Externship
Local Government Clinic
Municipal and Administrative Law Externship
Prosecution Clinic
Public Defender Clinic
State Litigation Externship
State Supreme Court Externship
Summer Law and Policy Externship in Washington, D.C.
Tampa Prosecution Clinic
Veterans Advocacy Clinic (In-House)
Stetson at a Glance [top]
Ranked #1 for trial advocacy and #3 for legal writing by U.S. News & World Report
Ranked #3 in 2016-2017 Top Moot Court Programs and sixth best moot court of this decade by National Jurist

Institute for Biodiversity Law and Policy received the American Bar Association's 2016 Distinguished Achievement in Environmental Law and Policy Award

Individual attention to student needs
Talented, accessible faculty who excel in their fields
State-of-the-art library and classrooms
Seven courtrooms
J.D. certificates of concentration in advocacy, business law, elder law, environmental law, international law and social justice
LL.M. degrees in Advocacy, Elder Law and International Law
M.J. degrees in International and Comparative Business; Aging, Law and Policy; and Healthcare Compliance
Dual degree and joint degree options: J.D./LL.M. in Advocacy; J.D./M.B.A.
Special exchange options with international partner institutions: J.D./LL.M. (general), J.D./MINTEC Masters 2 in International Economic Law; J.D./M.I.E.B.L. in International and European Business Law, J.D./LL.M. in Employment Law; J.D./LL.M. in Information Technology and Intellectual Property Law; J.D./LL.M. in International Commercial and Business Law; J.D./LL.M. in International Commercial and Competition Law; J.D./LL.M. in International Trade Law; and J.D./LL.M. in Media Law, Policy and Practice
One of few U.S. law schools to share space with a working court, Florida's Second District Court of Appeal
The first law school in Florida to require pro bono service by students and faculty
Excellent career development and bar preparation services
Home to institutes for biodiversity law, Caribbean law, legal communication, and veterans law
Home to four academic journals: Stetson Law Review, Journal of Comparative and International Aging Law & Policy, Journal for International Wildlife Law and Policy, and Stetson Journal of Advocacy and the Law
Honors program for top-ranked students
More than 45 student organizations
National and world champion advocacy teams
Wide variety of clinic and externship opportunities
Vibrant campus life with diverse student organizations, interscholastic activities and competitions
Six study abroad and six foreign exchange programs
Main law campus in Gulfport/St. Petersburg with satellite center near downtown Tampa
Specialty Programs
In addition to the J.D. required curriculum, Stetson also offers the following programs and certificates:
• J.D. certificates of concentration in Advocacy, Elder Law, Environmental Law, International Law and Social Justice
• LL.M. degrees in Advocacy, International Law, and Elder Law
• M.J. degrees in International and Comparative Business; Aging, Law and Policy; and Healthcare Compliance
• Dual degree and joint degree options: J.D./LL.M. in Advocacy, J.D./M.B.A., and other exchange options with international partner institutions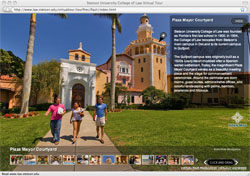 360° Virtual Tour
Explore the sights and sounds of Stetson University College of Law's Gulfport and Tampa campuses.
» View Tour