National Hispanic Heritage Month 2023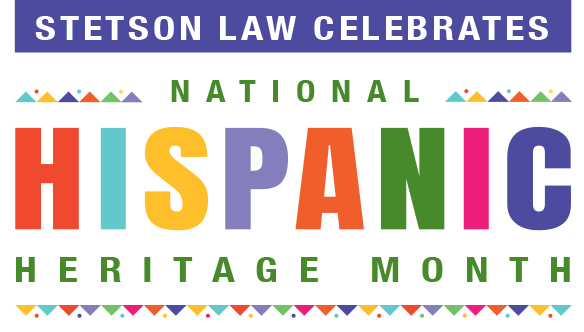 September 15-October 15 is Hispanic Heritage Month celebrating the independence of several Latin American countries and honoring the diversity of cultures across Hispanic and Latin communities. We invite everyone to the thoughtful and fun programming curated by the Hispanic Bar Association in collaboration with many other student organizations across campus that honors the contributions of Hispanic and Latine communities in law, culture, and beyond. Find historical resources, interactive experiences, and event information on this resource page.
While this page is the result of a collaborative effort, it is not a comprehensive resource. We encourage students, faculty, and staff to explore other resources and to feel free to share those that may add to the richness of this page. Please email any insights to [email protected].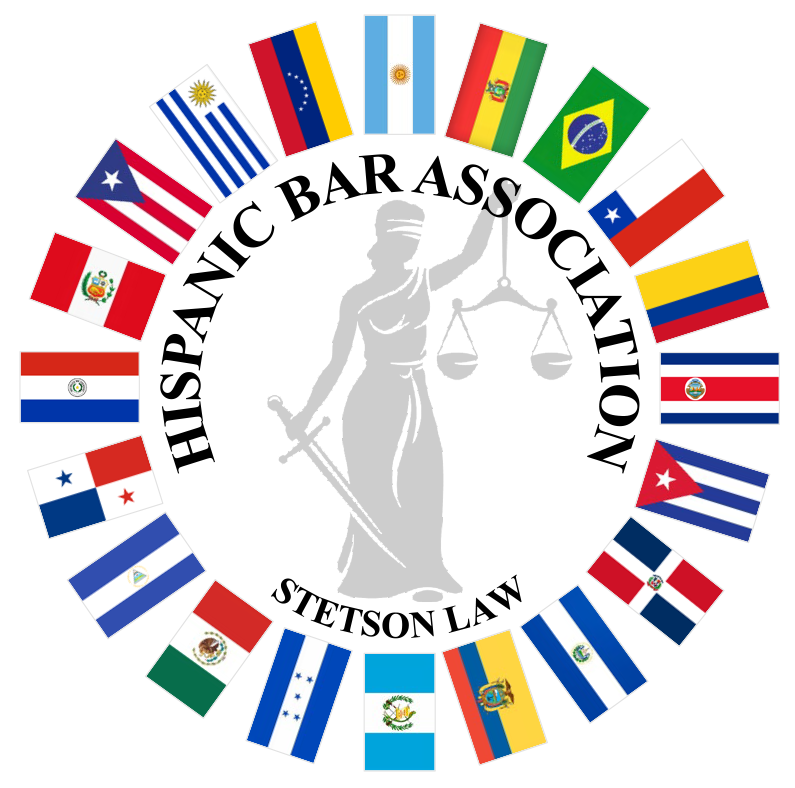 Events | Learn | Engage | Resources
---
Events
Please refer to the Campus Docket and Engage for the most up-to-date event information
Stetson Law Events:
Hispanic Heritage Month Display
Dolly and Homer Hand Library
September-October│First floor atrium
Students, faculty, and staff are invited to stop by the library to learn more about Stetson Law's Hispanic and Latine history.
Cafecito/Breakfast Bonanza Hour
Hispanic Bar Association and the Student Wellness Society
September 21│ 9 am-10:30 am│Great Hall Foyer | Please RSVP through Engage
Affirmative Action Panel
Hispanic Bar Association | Asian American Law Student Association | Black Law Student Association
September 28│ 12 pm-1 pm│The Great Hall | Please RSVP through Engage
Navigating Borders: Personal Journeys through Florida's Immigration Law Reform and Career Triumphs
Hispanic Bar Association | Asian American Law Student Association | Middle Eastern and North African Law Student Association | Immigration Law Student Association
October 3│ 12 pm-1:30 pm│The Great Hall | Please RSVP through Engage
Jueves con los Jueces (Thursday with the Judges)
Hispanic Bar Association
October 12│ 12 pm-1 pm│Classroom A | Please RSVP through Engage
Celebrating la Cultura: Mixer Event
Hispanic Bar Association | Immigration Law Student Association
October 19│ 6 pm-9 pm│Advocacy Center
Local Events:
Tampa Bay Latine Film Festival
Mi Gente Mi Pueblo | Creative Pinellas
September 16│ 4 pm - 8 pm │Creative Pinellas (12211 Walsingham Rd Largo, FL 33778) | Please RSVP here
Law Student Networking and Career Fair
Hillsborough County Bar Association | Diversity and Inclusion Committee
September 23│ 12 pm - 3 pm │Chester H. Ferguson Law Center (1610 N Tampa St, Tampa, FL 33602) | Please RSVP here
Movida 2023: My Identity
Mi Gente Mi Pueblo | Foundation for a Healthy St. Petersburg
October 7│ 12 pm - 5 pm │Center for Health Equity (2333 34th Street South St. Petersburg, FL 33711) | Please RSVP here
Viva Tampa Bay Hispanic Heritage Festival
Viva Tampa Bay
October 8│ 11 am- 9 pm │Perry Harvey Sr. Park (900 East Scott Street Downtown Tampa, FL 33602)
---
Learn
Culture and Identity
How Latinos Are Reclaiming Their Ancestral Cuisine
The Smithsonian
Many foods regarded as "super-foods" are indigenous to Latin America
Somos

Watch a snippet from an interview series that reflects the rich diversity of the Latine experience. (National Museum of the American Latino, 2023) (Duration 1:30)
Terminology and Language
Puerto Rico: Linguistic Trajectory and History
The Smithsonian
A story map journeying through Puerto Rico's linguistic history
The Terms That Bind Us: From Hispanic to Latine
The New York Library
The history of terms that have been used to describe those with ancestry from Spanish-speaking territories
Latinx Civil Rights History
Latinx Civil Rights Cases
Library of Congress
A resource guide for Latinx civil rights cases that span from 1911 to 2012
1938: Spanish-Speaking People's Congress
Library of Congress
How can a group of concerned citizens impact society?
Hispanic and Latinx Pioneers and Advocates
"Hidden Figure": Professor Luz Nagle
Stetson University College of Law
Professor Luz Nagle honored as Stetson Law's first tenured Hispanic professor
Activists and Legal Trailblazers
The American Bar Association
The American Bar Association highlights a few legal trailblazers and activists of Hispanic/Latino heritage
Hispanic Veterans' Stories
The Library of Congress
Dive into this archive of Hispanic Veterans' stories
---
Engage
Latino Identity
The Smithsonian
What does it mean to be Latino? Hispanic? Explore this online exhibit that explores the diversity of being Latino.
Shaping the Nation
The Smithsonian
Individuals within the Latino community have made a significant difference to better our nation. Learn how the United States is shaped by their continuous contributions in this online exhibit.
---
Resources
Stetson Law's Hispanic Bar Association - Learn about HBA
Tampa Hispanic Bar Association - THBA.org
Stetson University's Latinx Student Union