Campuses at Stetson University College of Law
Founded in 1900 as Florida's first law school, Stetson University College of Law has educated outstanding lawyers, judges and other leaders for more than a century. In 1954, the College moved from Stetson's main campus in DeLand to Gulfport, nestled in one of the 25 largest metropolitan areas in the United States. The College of Law opened a satellite campus in downtown Tampa in 2004.
The main College of Law campus is in the residential beachfront community of Gulfport, which is adjacent to St. Petersburg. Few places in the world can compete as an idyllic environment for the study of law. Inside the walls of this former 1920s resort, you'll find classrooms and courtrooms equipped with sophisticated audio-visual technology. Stetson's Dolly & Homer Hand Law Library attracts legal scholars from around the world with its comprehensive digital and print collections, not to mention its comfortable study areas.
» Gulfport Campus Directions
» Gulfport Campus Map (PDF)
The Tampa Law Center is located at the gateway to downtown Tampa along the Hillsborough River. Stetson shares its Wm. Reece Smith Jr. Courtroom and satellite law library with Florida's Second District Court of Appeal.
» Tampa Law Center Directions
» Tampa Law Center Map (PDF)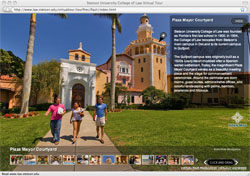 360° Virtual Tour
Explore the sights and sounds of Stetson University College of Law's Gulfport and Tampa campuses.